Birmingham Running Festival
We are the 2024 Birmingham Running Festival charity partners! 🏃🏿‍♀️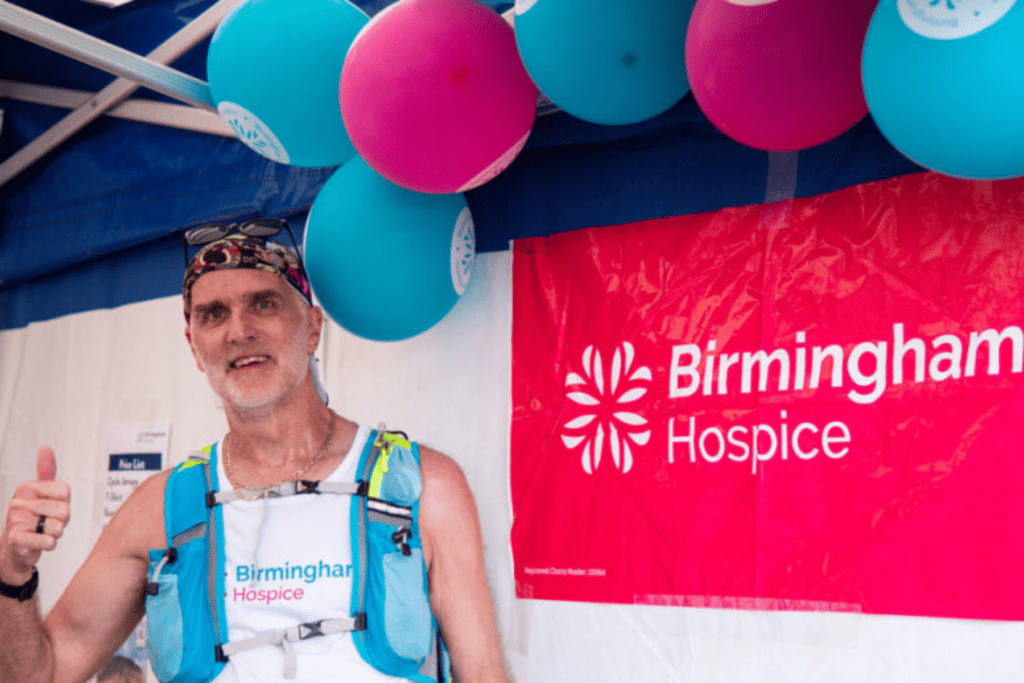 Take on either a 5k, 10k, Half Marathon or Junior race as part of #TeamBrumsHospice! 🏃🏿‍♀️
Limited charity places now available!
Run for Birmingham Hospice with one of our charity places on your chosen date and pledge to hit minimum sponsorship in return.
The events fall on the following dates:
Sunday 18 February
Sunday 12 May
Sunday 21 July
Sunday 15 September
Each event takes place in Sutton Park and the race start timings are:
Half Marathon – 9am
10k – 9.45am
5k – 9.55am
Juniors- 11.30am
Entry includes the following:
Unique themed medal
Chip timed results
Free official race photographs
Post race goodies
Dedicated fundraising support from our Events Team
A Birmingham Hospice running vest
Signed up already or looking to run with your own place?
Simply let us know and set your own sponsorship target. Pledge to raise £50 and receive a Birmingham Hospice running vest in return.
Upon signing up, you'll receive a fundraising guide with everything you need to know in the run-up to your event day, alongside some handy training tips and fundraising advice. The Birmingham Hospice Events Team will also be there to support you every step of the way with advice, materials, top tips and the biggest cheers on the day!
Event FAQs
We welcome anyone to run for #TeamBrumsHospice on their chosen date, but the organisers suggest the following minimum ages for each distance:
5k – 11-years-old
10k – 15-years-old
Half Marathon – 17-years-old
For all our charity place runners, you have pledged to raise a minimum sponsorship target dependent on the distance you are running:
5k – pledge to raise £100
10k – pledge to raise £185
Half Marathon – pledge to raise £285
For our own place runners in any distances, including the Junior race, you do not have a set fundraising target. Just remember, every single penny you raise make such an incredible difference to Birmingham Hospice. Pledge to raise £50 in return for a Birmingham Hospice running vest to wear on the day!
The routes for all distances are inside the beautiful Sutton Park, taking runners along the roads and windy paths in and around the park. Every kilometre will be accurately marked out and there will be plenty of helpers to keep you on track and cheer you on your way to the finish line. Each race involves laps around Sutton Park; there will be one lap for the 5k, two laps for the 10k and four laps for the Half Marathon.
For more information on the course, please click here.
For each event date, the race start timings are as follows:
Half Marathon – 9am
10k – 9.45am
5k – 9.55am
Juniors – 11.30am
Birmingham Running Festival is owned by RunThrough. Since 2013, RunThrough has become a national running community and organises multiple large-scale running events such as Birmingham Running Festival, across the country throughout the year.
When signing up with a charity place, you will be re-directed to Run Through's site/registration form page to complete the sign up process by entering all your details. Once you've signed up we'll receive a notification and will be in touch to welcome you to #TeamBrumsHospice and support you in the build up to your run.
For more FAQs around the event itself, please click here to follow through to the organiser's website.
If you have any questions, we're here to help on events@birminghamhospice.org.uk / 0121 465 2009