Right at this moment, our doctors, nurses and frontline staff are working hard to provide urgent care and support during this unprecedented time. People like Michael.  
Here at Birmingham St Mary's Hospice, Michael is one of #OurHospiceHeroes. A member of our fundraising team, Michael has been redeployed to help our housekeepers during this difficult time. We caught up with him to find out more…  
Hi Michael, can you tell us about your role at the Hospice?
Absolutely, I work as an Events Coordinator in the fundraising team. In this role, I support our fantastic fundraisers who have chosen to take on challenges in aid of the Hospice. I work with them, and provide them with tools and techniques to make the most of their fundraising experience, while offering support so they can raise vital sponsorship for our care.
Some of the challenges I look after include exciting sporting events that happen across the country, like the London Marathon, the Great North Run and the Birmingham Velo. I also organise our 'Adrenaline Series' where brave and adventurous supporters can fly through the skies – whether it's a skydive, a wing walk or a bungee jump. These may sound terrifying but I did a wing walk for the Hospice last year and it was one of the best experiences of my life!
How has your role changed during this difficult time?
I've been redeployed to our clinical housekeeping team for a few days each week, to help with the extra workload they're experiencing during these uncertain times. In this role, I'm helping to keep the clinical areas – such as our Inpatient Unit – clean and safe for our patients and frontline workers.
Obviously, this role is very new to me and very different to what I do in the fundraising team. But it's a huge honour to be supporting the Hospice in this way, especially as it keeps our patients and frontline staff safe. Working in the fundraising team, I'm used to rolling up my sleeves, getting stuck in and trying new things – and this is no different.
When I'm not working in the housekeeping team, I'm looking at ways to keep our supporters active and fit throughout the lockdown. I've recently launched our new Ride 100 virtual challenge – a cycling challenge where participants need to clock up 100 miles across April, May and June. We have lots of keen cyclists who support the Hospice – many of whom have been disheartened by the cancellation of cycling events this summer – so I wanted to give them a chance to still complete a challenge but in a safe way.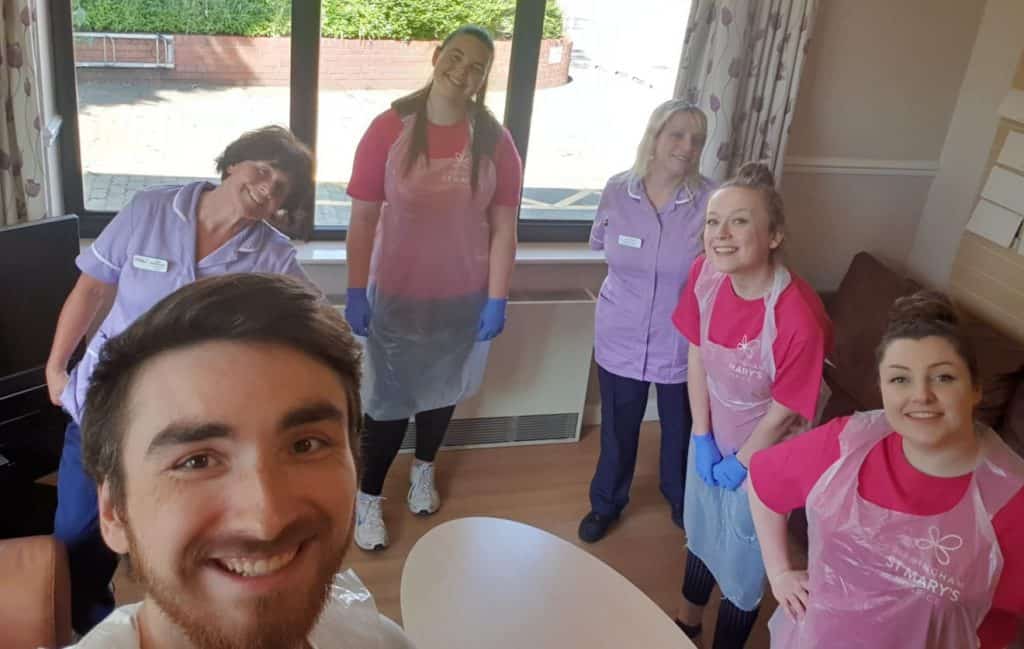 How is your role making a difference to people right now?
In my fundraising role, I am trying to encourage people to stay active during lockdown, especially as it can have great benefits to your physical and mental health. By encouraging people to take on a virtual challenge, I believe that it will help to keep them motivated whilst also raising much-needed funds for the Hospice – which will ultimately help people to receive care and support during this uncertain time.
In my housekeeping role, I'm helping to reduce the spread of Covid-19 by keeping our clinical areas clean, which will in turn help protect the safety and wellbeing of our patients and staff.
Why is hospice care so important?
Hospice care covers so many things. It supports an individual's physical symptoms, their emotional and psychological wellbeing and their spiritual needs, as well as supporting the people who matter most to them.
It's important that the benefits hospice care can bring to people isn't underestimated throughout this crisis, and therefore still receives the crucial support it deserves.
Who's keeping you company when you're at work?
My main man Barney – a 10-year-old Border Collie – is keeping me company in the garden whilst I'm working from home. He has never been so lucky to have me on hand to throw sticks throughout the day, and then get a lovely long walk in the woods once I finish work.
What's your go-to quarantine boredom buster?
Painting with Bob Ross on Netflix and playing friendly poker games with my friends online. No money is at stake but it's good to have some friendly banter and stay in touch.
And finally…
Thank you to everyone who has continued to support our care throughout this difficult time. Our nurses, doctors, housekeepers, catering team and all frontline workers are working daily to fight this virus and provide the highest-quality of care.
Our frontline staff – including Michael – are #OurHospiceHeroes. They're doing all they can to provide around-the-clock care on our Inpatient Unit, as well offering critical support in people's homes, on the phone, and via digital consultations.
And it's not just our patients who we're supporting. We're also working in partnership with local hospitals, GPs, District Nurses, care homes and more to ensure more people get the care they deserve during this uncertain time.
But heartbreakingly, at a time when people desperately need our services, we're losing out on crucial funds. We've had to postpone fundraising events, community activities and corporate partnerships, as well as temporarily close the doors to all 17 of our charity shops. But our care hasn't stopped.
If you can help more people get the care and support they need, please make a donation or take on a virtual challenge here. Whatever you choose to do, you will be helping someone across Birmingham and Sandwell to receive the support they desperately need during these uncertain times.