We're raising money to help pay for Birmingham St Mary's new roof because this was the place where my wife Rebecca received the most incredible care last year. Many more people will need to receive care there in years to come.
Rebecca was only 45 when she died. She slipped away in her comfy bed in her bright, airy room at Birmingham St Mary's Hospice. I was holding one hand, our young daughter Eva holding the other.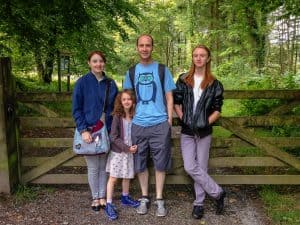 Less than a year before that we'd been out in the car, everything just fine, and Rebecca had complained of pain in her back. We thought nothing of it really, but the pain returned, again and again. Rebecca was a carer for a severely disabled lady and she found her back hurt when she had to bend or lift. Rebecca hated asking for help, hating making a 'fuss'; but it became so bad she had to go into hospital, even stayed for three days at the end of June while they tried to find the problem. But nothing was conclusive.
Finally, in July last year, we were given the answer. They had found cancer in her stomach – but it had already spread to her bones, her spine, her ribs and hips. There was nothing they could do. They said she had months left.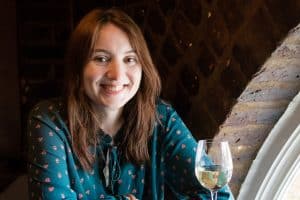 Rebecca came home from that diagnosis but within hours we had to rush her back into the QE (such a little thing, she'd shooed the cat at home and it had hurt so much we had to call an ambulance). Due to the diagnosis, we had a visit from Birmingham St Mary's – that was when it was recommended she go into Birmingham St Mary's Hospice, because they were the experts in pain management. Rebecca had always insisted she wanted to stay at home but she immediately said "Yes" to the Hospice – it showed us all how bad she was feeling.
Birmingham St Mary's welcomed us all. Even though all the restrictions were still in place, and the staff had to wear all the PPE stuff, they made us feel so comfortable. Rebecca was given a room with a view over the garden – visiting was limited at this time. After a few days, she had to go back to the hospital (more tests) where she stayed for five days, but then came straight back to the Hospice. We were told it would now only be weeks, not months – but very quickly that became days instead of weeks, so quickly was she deteriorating. We realised she would not be able to come home now.
And so Birmingham St Mary's became our home for what turned out to be our last two weeks together as a family. We were able to visit more due to the prognosis, her son Josh and daughter Eva were able to visit, as were her parents. Eva and I would just spend our days in her room. The Hospice staff, the nurses, the catering team, the housekeepers, they all became our family. The care and attention they gave to Rebecca was just astonishing, faultless; but it was the way they also cared for me and the kids that I found incredible. One day I said to one of the nurses (the 'angels'), "I'm amazed you're able to spend as much time with us as you do". "That's why I love working here," she replied.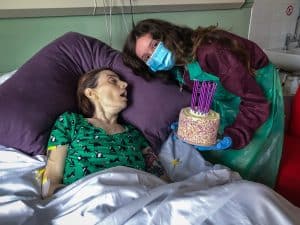 They helped us to have some special moments with Rebecca while she was there. It was coming up to Eva's 13th birthday and we realised Rebecca might not make it. So, the nurses suggested we could have an early birthday party and we organised balloons and a wonderful cake. Rebecca and I had talked about the presents we wanted Eva to have and we chose a charm bracelet. Rebecca selected all the charms and I helped her wrap it up. A few days later Eva had her 'party' and, even though Rebecca wasn't awake by then, Eva still had her special present from her mum. The Hospice also helped us to make a cast of Rebecca and Eva holding hands – and that's something Eva now has to keep the memory of that moment strong throughout her life.
We'll never be able to truly thank Birmingham St Mary's and the team there for those last two weeks, for all the moments we remember having with her in that special place. Honestly, I miss the Hospice. I miss the walk from the front door down the corridor and into her room. I miss the nurses and their friendly eyes smiling at us over their masks. Once things open up again I'd like to go back – and they've told me that Eva, Josh and I are welcome whenever that's possible.
We started fundraising at the end of last year for Birmingham St Mary's – Eva and I signed up for their sponsored walk and so far we've managed to raise a few thousand pounds in sponsorship. The event has had to be postponed a few times, sadly, but we'll definitely be there when it finally does take place!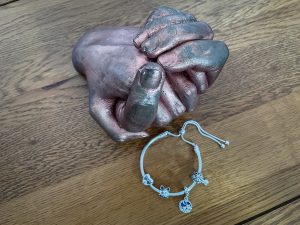 We spoke to the Hospice recently about what they needed money for. They said they urgently needed to replace the roof over the Inpatient Unit, which is where Rebecca was for her final weeks. Now, it was only when they told me about the roof that I remembered walking past the buckets in the main corridor. It made no difference whatsoever to our or Rebecca's experience at Birmingham St Mary's – but of course, they need to get that old roof replaced now that it's become unrepairable.
It's not the building that makes Birmingham St Mary's, it's the people. But that amazing team needs a place that's comfortable, warm and dry while they deliver their incredible care. That's why we're supporting
them today – and I'm hoping you'll join us to help them in any way you can.
Thank you. With all best wishes from our family to yours.
Nathan