"I love absolutely everything about my role. Every day is different and we are always surprised by our community's kind donations and stories." – Rachael Quinney, Shop Manager.
Our Castle Bromwich charity shop has had a successful few months, from a Christmas event that brought the local community in and together, to a beautiful Valentine's Day window display, their hard work is making a difference.
The team has made it their mission to bring a pop of colour and a sense of community to the Castle Bromwich Shopping Centre; with carefully curated items and creative DIY arrangements that encourage visitors to shop sustainably.
Rachael, Shop Manager, who will soon celebrate her fourth year at The Hospice Charity Partnership, credits the smooth running of the shop to the dedicated, small team of 13 volunteers and two part-time employees.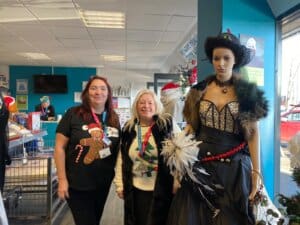 Rachael, Shop Manager, and Karen Potter, pictured before the 'Late-evening Christmas event' they organised in December.
FROM VOLUNTEERS TO FULL-TIME EMPLOYEES
From donating items constantly to charity shops to volunteering, Rachael has been a supporter of the charity sector for a long time.
She talks about her connection to the hospice and what keeps her going:
"I was working for another charity at that time, but when this job was advertised, I applied for a full-time position as Shop Manager.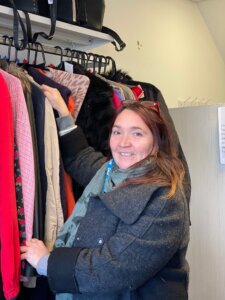 "Both my aunt and mother-in-law were looked after at John Taylor Hospice, which was my main motivation.
"I still remember the care and kindness the nurses showed to my mother-in-law.
"She used to go to the Day Centre and get pampered – the nurses were doing her nails and taking her outside for walks. She felt very comfortable and used to tell us how surprised she was to find out hospice care is completely different from hospital care.
"Being able to work here means a lot to me. I try my best, every day, to contribute to the amazing impact local hospice care has in our community."
She attributes the shop's success to creative people like Karen, who started off as a volunteer and has since become a full-time employee, setting up window displays.
Karen said: "I started volunteering four years ago and I've been a full-time employee of The Hospice Charity Partnership since September 2022.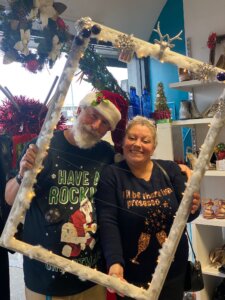 "I enjoy this role very much – it kept me going and gave me a sense of service at a time when I needed it the most.
"When I lost my mom, I used to come in here very often, have a cup of coffee or tea with Rachael and help around the shop.
"It's a productive way of using your time and ideas in the benefit of the local community and also – a very rewarding journey."
Karen's favourite part of working at the Castle Bromwich shop is meeting the customers, which are often family members of individuals who were cared for at the hospice:
"Hearing their touching stories and why they buy from the shop is a constant reminder of the importance of high-quality hospice care."
Karen has also mentioned she made a lot of friends among the volunteers and regular customers, which seems to be another reason why most of our volunteers opt to work in charity shops.
The Queen's Platinum Jubilee (pictured below) was her favourite window display, but she creates new ones regularly, as items go fast and donations come in daily.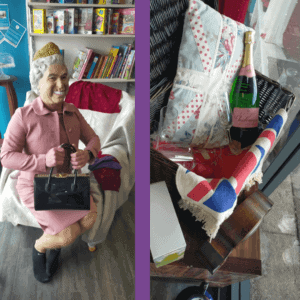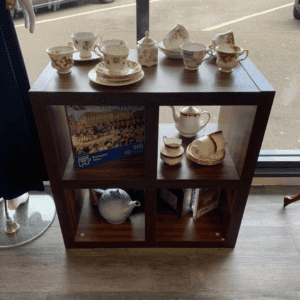 COMMUNITY AT THE CENTRE OF EVERYTHING
Many customers told our volunteers that the Castle Bromwich shop brings a pop of colour and personality to the shopping centre it is placed in.
"For us, it's more than a shop where you can get a bargain. This is our way to to put a smile on our customers' faces and we love organising in-shop events", Rachael said.
Christmas late-night openings, birthday bash events and Valentine's Day raffles are opportunities for the community to get together and support their local hospices. With every item purchased and with every event, shop volunteers and employees help visitors discover how our work can benefit, today or someday in the future, their family and friends when they will need it most.
A massive thanks to all of our Retail Team and volunteers for their ongoing dedication to our charity shops and huge congratulations to the Castle Bromwich team for their recent success.