My Mum, Beryl, was my angel on earth.
She connected with people so naturally and they gravitated towards her. There's so much I could say about her, but I want you to know that her strength was phenomenal; she was a proud lioness of a woman.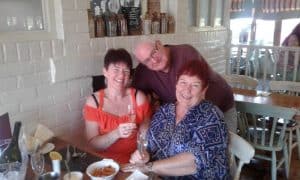 Mum, Dad and I had just returned from my niece's wedding in Greece when she mentioned a pain in her shoulder. Within days she went to the doctors and soon after, we received the news that it was cancer which had spread from the liver to her ribs.
Not long after this, we met another angel on earth: Mary, a nurse from the hospice.
Mary's a bit like Nanny McPhee – she may not have a magic stick, but she has a way of making everything better. She came to see us regularly, looking out for Mum when she had infections, making sure she – and me and Dad – were ok. But then Mum's mobility deteriorated, and we had to arrange a hospital bed in the lounge for her. We managed ok for a bit, but then Dad broke his wrist and with me in full-time work, simple things like getting Mum up and out of bed became more challenging.
But of course, Mary was straight on it and we knew everything would be all right in her hands. She told us it might be a good idea to get a bed for Mum at Birmingham St Mary's, just for a little while.
Just hearing the word hospice can make you think the very worst. But Mary helped to put our minds at rest – that the goal was to help Mum feel well again, become more mobile and for her to come back home, where she wanted to be.
We were there at the hospice each day with Mum – and we made her room her own. It never felt clinical – there was a small fridge where she had cold drinks and fruit, which she loved. In the summer, there were peaches and nectarines and grapes. We've got a couple of cats – Snowy was Mum's favourite, so I had a photo laminated of her and she was able to have that right up by the bed.
At one stage, Mum must have had about seven vases of flowers dotted around her room! She loved fairy lights – the brightness and joy they bring – so we brought some pink lights to put at the end of her bed and round the TV. It's those little things that made it comfortable, homely. They made a huge difference to all of us. The nurses would come in, look around and say, 'We've come to brighten our day!'. I don't think a day went by that we didn't laugh about something. That is certainly a huge comfort for us now.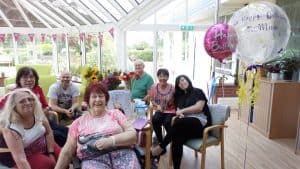 I'm looking at the photo right now that we have centre stage on our fireplace – Mum's birthday, July 20th. She'd been in the hospice for about three weeks and we had lots of family over – so the nurses said, 'Why don't you use the conservatory for a little party?' We set all of Mum's flowers, her cards and balloons out and the nurses organised a cake which they presented to her, with a beautiful view overlooking the rose garden, which Mum loved.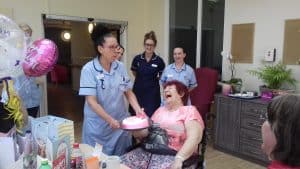 Everyone gave you the feeling that nothing was a bother – as if we were the only people there. One of the nurses even cut and coloured Mum's hair for her – she was a true redhead and always kept it done. There was a woman who came in twice a week to give Mum aromatherapy foot massages – just like a spa! I even joked that with treatments like that, she would not want to come home after all.
We didn't want to leave her side those last days and they let us stay. Dad and I slept there in the room with her, in the big, upright chairs, the night before she passed.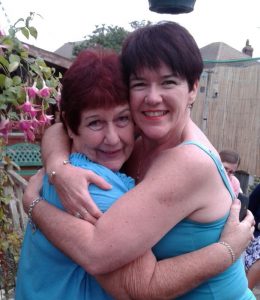 After she left us, they laid her very beautifully, with fresh flowers on her pillow. For Mother's Day, I had given her a heart cushion embroidered with 'Best Mummy in the Whole Wide World' and that was there for her too, her favourite perfume lingering in the air. It was so comforting to be with her for a while, even though she was no longer there with us.
Mum was never able to come back to ours. But there was, however, such reassurance in knowing that towards the end, Mum felt like Birmingham St Mary's was home.
Everybody – from Mary to the other nurses, to Vince who came round with the drinks trolley and all the healthcare workers – are like family now. In fact, Dad and I have already been back to visit. It will continue to be a terrible thing that's happened and it's still very raw for us. But if something good can come out of our experience, then so much the better.
Birmingham St Mary's is a place of huge support, care and joy – and they're still here for us. My Dad even describes it as 'heaven on earth'.  So, we feel most honoured to help Rachel and the team to buy the equipment they need to help more local families. We spent Mum's final night in one of the chairs beside her bed and I know how vitally important that time was to us, even now. Please, if you can, help Rachel and all the 'angels' to complete their Wish List – so that others can have the same care, comfort and dignity that we had.
Mel Johnson-Remy
Thank you so much for sharing the story of your mum with us Mel and helping to shine a light on the work we do here at the Hospice.
If you'd like to help us to buy the equipment we need to help more local families like Mel's, please click here to visit our Spring Appeal – thank you.