My husband Phil found it very difficult to accept his cancer diagnosis. He always had a fear of
doctors and hospitals. So, when he arrived at the hospice he was very grumpy, it has to be said.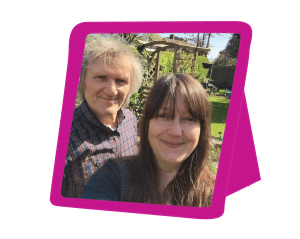 But the staff never minded; they were so patient with him, so understanding. They treated him with calm kindness, respected his wishes – but made sure we knew they were only a moment away if either of us needed them. One of the nurses, Deborah, kept coming back to chat to him and, gradually, slowly, she built a bond of trust with him. "She sees me as a person," he told me – and that meant everything to him. After two weeks he had accepted her care, as well as the medications to take away his pain.
Phil and I had been together for over 30 years. I spent those last days together with him, and our children, in his cosy hospice room, talking to him, reading poetry, playing his favourite music. I was by his side when he died in early December, peacefully and out of pain. Looking back, I cannot imagine a better ending.
We attended the Light up a Life event for the first time a few days later. It was very raw, very emotional for me. But I remember that it was a safe space, shared with many others who knew how I was feeling. It was a joyous, uplifting event that I have come to treasure, and especially this year, when we can return to the hospice once more.