Dying Matters Awareness Week is our chance to get our community talking about death, dying and bereavement.
Our charity wants everyone to be #InAGoodPlace when they die – whatever that means for them. To help people get this support, we want to encourage people to tell their stories, remove the stigma of these topics and get talking about end of life care.
Kelly-Marie Lott, Community Palliative Sister at The Hospice Charity Partnership, has worked in palliative and end of life care for two years, and said it is a very rewarding and fulfilling role.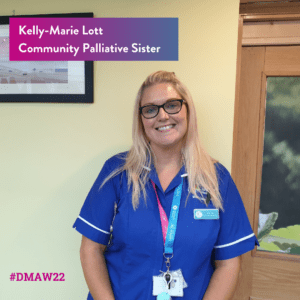 Going out to visit patients in the community and providing specialist care every day, Kelly knows how vital conversations around palliative care are for both the patients and the hospice teams who look after them.
Kelly said: "End of life conversations are not always easy to have, but building a therapeutic relationship with our patients is fundamental – conversations need to be openly discussed and future plans put into place.
"Having these types of conversations enables us to deliver care holistically and tailored to patients' individual needs.
"A multi-disciplinary team approach like ours is vital in order to provide care which is seamless and effective. Patients' views and wishes are at the forefront of our minds and always come first.
"To be able to give our patients their last wishes and make their final weeks, days and hours comfortable and settled is priceless.
"Palliative care is a very rewarding and when you get it right for the patients and their families, it is invaluable."
Visit www.birminghamhospice.org.uk/dying-matters-2022/ to find out more.