Our Day Hospice Team in Selly Park would like to say a huge thank you to Bournville Garden Centre, Sonia Williams and her colleagues, for their generosity over the past couple of years.
Sonia, whose parents have been cared for by the hospice, encouraged her place of work, Bournville Garden Centre, to support the hospice as a local charity. Sonia wanted to do what she could to further support the team and so she got the garden centre involved in fundraising and donating gardening supplies, plants and decorations to the hospice.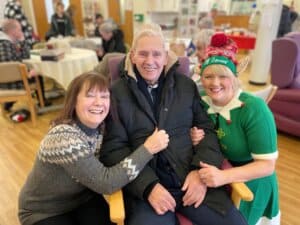 Our Day Hospice team, and our patients, are all so grateful for the ongoing support the garden centre has given us – either by fundraising at events like the Bourneville Christmas Lights switch-on or by donating beautiful plants and flowers for our patients to enjoy in the gardens.
Sonia explained: "In 2020 I lost my mom and I just wanted to do as much as I could to help. I got my work involved and we set up a group to support the hospice. The garden centre has chosen the hospice as its local charity to work with and support, which is great.
"The hospice touches a lot of lives locally. It's so important for the business to support local charities. Bournville as a community has a strong ethos of giving as its history reflects.
"My mom always loved flowers so it's nice I can share her passion with the patients here. The support our family has had from the hospice is impossible to put into words. My parents' needs have always been put first, and they have also supported me throughout."
Most recently, Sonia and her colleagues helped to decorate The Retreat, an outdoor space patients use, into a Santa's grotto. Complete with lights, a Christmas tree and a fireplace, The Retreat is looking ready for festivities.
Kate Miley, Nursing Assistant, said: "Sonia and her team at Bournville Garden Centre have been great in supporting us throughout recent years.
"Their help decorating The Retreat into a Santa's Grotto was amazing. We wanted it to be extra magical so we could get patients across to see it. In other months, The Retreat will be somewhere we can take patients to do craft activities and we just want it to be a nice, safe space.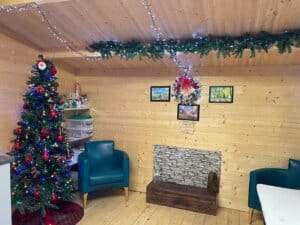 "They have been supplying flowers and hanging baskets throughout the year also. Their support is ongoing and so valuable. Our patients really benefit from it.
"For some patients, their gardens were their joy so seeing the raised beds and flowers here when the gardens are looking lovely, really brightens their day."
Thank you so much to the garden centre and all of Sonia's colleagues who have supported us so generously!