Sue Smith, a long-time supporter of the hospice, puts her knitting skills to use to raise hundreds for our charity.
Our dedicated supporter, Sue, has spent many hours knitting colourful Easter chicks to sell in our charity shops, as well as to give to the children using our Bereavement services for a cheery springtime treat.
As well as their own individual decorations – a smiley face and ribbon – the Easter chicks have space for a small chocolate egg to be hidden inside, making them the perfect way to spread a smile this Easter.
Sue started volunteering at the hospice in memory of her friend who died around 30 years ago, and who experienced care from our hospice. Sue has since worked for the charity, as a Supporter Experience Assistant, for almost five years and loves to fundraise.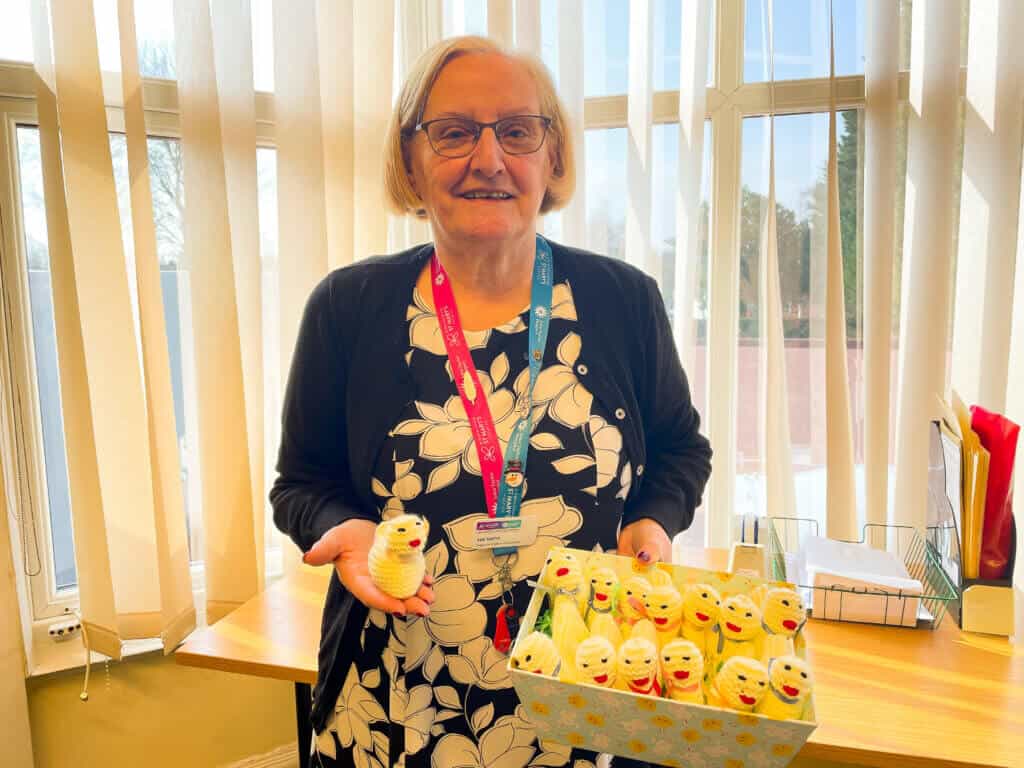 To raise the incredible £366.50, Sue has knitted various different craft items over the years, including Christmas decorations, and most recently knitted chicks for Easter.
Speaking about how the Easter creations came about, Sue said: "When clearing out the garage at the hospice I spotted some chicks already partly knitted, in fact there were over 1,000.
"I have now spent time assembling them, putting on new faces etc, adding ribbon and generally bringing them back to life."
She added: "The chicks will be sold in our charity shops around Easter – so please do pop down and grab yourself one!
"All the chicks going to the Bereavement Team are for children who are receiving support at both hospices. The fundraising team have managed to get some eggs from local shops, so the children will have chicks with an egg inside them to make them smile at Easter!"
Sue is also part of the Harborne Fundraising Group who work with assorted crafts, but once Easter is over, Sue will be looking for new ideas to knit.
Sue's knitted goods have been sold at awareness stands in Northfield Shopping Centre, Harborne Christmas light switch-on, craft fayres, and internally at the hospice.
"There has been many a night that I've stayed up until 12am knitting, but I really enjoy it," Sue added. "It's lovely to see people enjoying my crafts."
We are so grateful for Sue's incredible support; the £366.50 she raised is enough to cover 14 bereavement sessions to help a family member cope with the loss of a loved one. Thank you Sue!