Grateful for the support that The Hospice Charity Partnership has given her, Day Hospice patient Sheila Tomkins, has kindly shared her story.
"I attend the Day Hospice at Birmingham St Mary's every Tuesday. We do all sorts of activities, things like crafting, card making and painting. It really brightens up your day when you come to the hospice.
"I find it a very calming and peaceful place. It's light, bright and a change of environment from home where you can forget about your illness for a while, which is so valuable.
"When you come here and meet other people who are also really ill you can socialise with them. It's really nice just taking to people while you're doing the activities and it takes your mind off of your illness. When I leave the sessions I always feel as if I have more energy.
"Depression is a big part of illness that I think we all suffer from, and doing something even for just half an hour feels like a release. We're all social creatures and after lockdown we've really found out how important socialisation is."
It really brightens up your day when you come to the hospice"
Former teacher Sheila, who lives in Northfield, began attending sessions during the COVID-19 pandemic when they were held virtually. Thankfully, since restrictions have eased, we've been able to welcome back patients into the Day Hospices at both Birmingham St Mary's and John Taylor Hospice this year.
"In 2002, I was first diagnosed with breast cancer, which reoccurred in 2014 and I had a mastectomy. After suffering from a number of falls, in 2020 I was taken into hospital where they discovered I had a brain tumour which was operated on and has since stabilised, however, following a routine body scan to check the cancer doctors discovered primary cancer in my liver in March 2022.
"I also live with inclusion body myositis, a progressive autoimmune condition which affects the muscles in my arms and legs. So I can't walk unaided and rely on a walking frame and a motorised wheelchair to help me get around."
I can't fault any of the support or treatment I've had"
"I didn't know what to expect when I started coming here. But all of the people here are just so lovely and helpful. Tammy, Katie and Lucy from Day Hospice have been just brilliant throughout my time at the hospice, and the volunteers are absolutely marvellous.
"You can just mention one thing and they chase it up for you, no hesitation, they just go ahead and do it. This really helps to take a lot of the stress and pressure off me which I'm so grateful for.
"I'm also starting to see a counsellor through the hospice which I think will really help me.
"I can't praise it enough, the hospice is such a wonderful place and I can't fault any of the support or treatment I've had. Even the food is fantastic, I have to praise the Catering Team too.
"I just can't express how I feel about this place, it's so wonderful."
I will always support the charity"
Following her experience with the hospice, Sheila has been inspired to support in future fundraising campaigns where she can. She said: "This place has been a godsend, I will always support the charity. They've done so much for me, I want to give something back."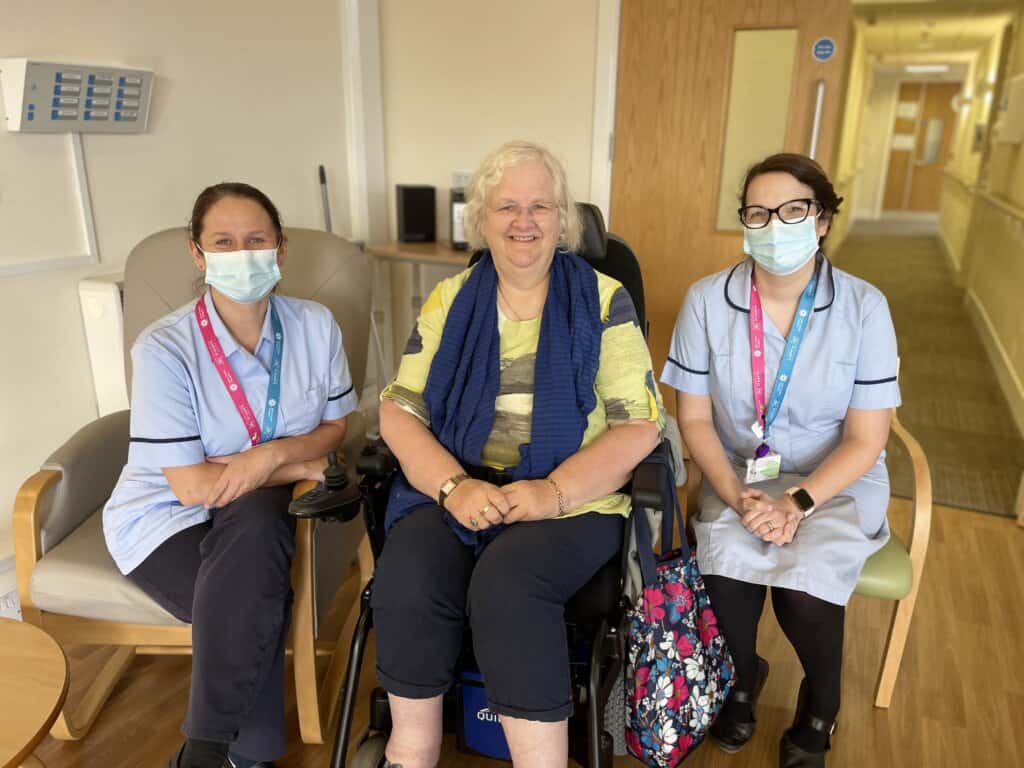 When asked if there's any advice she would give to someone who was considering attending Day Hospice sessions at The Hospice Charity Partnership, Sheila said she 'couldn't encourage them enough'.
"Certainly come, there's no doubt about it," Sheila added.
"I think it's hard for everyone initially to take that first step, but once you've come to the first session you won't look back.
"I don't know anyone who wouldn't want to come again, it's so beneficial for your health and wellbeing."
Thank you so much for sharing your story with us Sheila. If you would like more information about how Day Hospice services at The Hospice Charity Partnership can support you, please visit www.birminghamhospice.org.uk/explore-our-services/day-hospice  for our Selly Park site or www.johntaylorhospice.org.uk/care-and-support for our Erdington site.