We want to say a big thank you to everyone who completed the London Marathon back in October – either by running in the live event or taking on the virtual version closer to home.
Altogether, 38 amazing people pounded the pavements to raise vital funds for The Hospice Charity Partnership. The final total is in, and we are delighted to say that together the team has raised an incredible £36,367!
Included in the team were members of staff who rallied together to support the charity after another difficult year.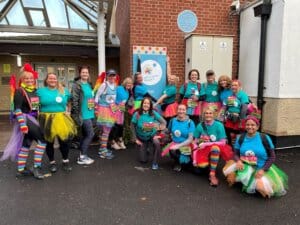 John Ridd from our Retail Team smashed his goals at the in-person event in London.
Meanwhile, members of the Medical and Clinical Team – Pip Olliver, Sarah Bache, Louise Buckland and Dr Shurma Pallan – completed the 26.2 miles around the local area along with friends and family members.
Sarah said: "As always we do it to raise money and awareness for the hospice that we all feel so passionately about. Every hard mile you think of the lovely patients and families. All being together was definitely a bonus and kept us going."
Pip said: "I always like a challenge and I am passionate about the hospice. Although I dreaded the thought of doing 26.2 miles it was great fun with great company. The last two miles was in pouring rain but this added to the experience! Couldn't walk for the next two days and blisters were impressive!"
The team was also supported by Dr James Kendrick, who didn't sign up for the event but came to support the group and ended up walking 13 miles with them!
It is thanks to passionate supporters and members of staff like these that 1,000 local people living with life-limiting illness can be cared for by The Hospice Charity Partnership at any one time. Thank you all so much.
If you're feeling inspired to run the London Marathon, and support local patients at Birmingham St Mary's and John Taylor Hospice, apply for one of our 2022 charity places here. We'd love to have you on the team this October!