Run Brum Crew was set up in 2019 by Michael, and it was the first established running crew in Birmingham with England Athletics licensed run leaders and now has over 80 members! Unlike most running clubs that focus mainly on the physical benefits Run Brum Crew focusses on the mental and social benefits that running can bring in a very supportive ethos.
"We organised a virtual 10k race to fundraise for Birmingham St Mary's Hospice as we recognised the terrible effects of the coronavirus pandemic on Hospice's across the country and on the funding streams to many of them suddenly being closed off such as charity shops and no events. As a crew we helped raise £910 through this fantastic virtual 10k!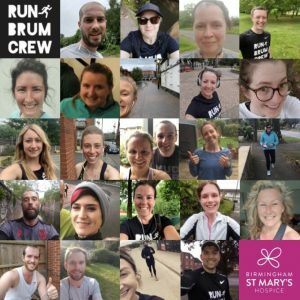 "We spurred each other on through social media and posted collages of our selfie pics as we finished the race all across the West Midlands. We were fortunate that England Athletics provided us with a free online portal for organising virtual races, which helped to make us feel like we were doing it 'properly'! We even managed to get a couple of members of staff from the Hospice to take part in the challenge – and thankfully they have both kept running with the crew since!
"The Hospice in need of vital funds to keep providing their services, and in doing so you will be supported by a friendly team who will provide any help needed in providing fundraising support."
We want to give a big #BSMHThankYou to everyone in the Run Brum Crew who have supported the Hospice. Not only did they organise the virtual 10k but have also taken part in some of our organised events including raising £115 for the Jingle Bell Jog too!
We are so thankful to you all for your continued support to the Hospice, which will make a big difference to individuals living with life limiting illness across Birmingham and Sandwell.
If you would like to organise your own challenge like Run Brum Crew, then find out more at www.birminghamhospice.org.uk/my-fundraiser/ to get support from one of our community fundraisers.