When Dean's mother-in-law and Katy's nanny, Barbara, received care at Birmingham St Mary's Hospice, they knew they wanted to do something special to give back to the charity. Therefore, they decided to take on Ride the Reservoir to help raise much-needed funds and awareness for our care. Take a read of Dean's story to find out more…  
'Supportive', 'caring' and 'comforting' – that's how I would describe the Hospice in three words.
My mother-in-law, Barbara, was diagnosed with breast cancer at the beginning of 2018. Heartbreakingly, the diagnosis came very late and so treatment was not an option. It was then that we were put in contact with Birmingham St Mary's Hospice.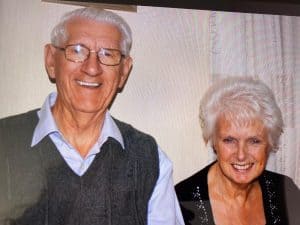 At first, Barbara and her husband Tom were visited by hospice staff in their own home. But in just a few weeks, Barbara was getting more poorly and so she was admitted to the Hospice's Inpatient Unit for end of life care.
In a word, the Hospice was amazing. Barbara was given her own private room, which was spacious and had a beautiful view of the hospice garden. It might sound strange to say but it really did help make Barbara's last few days a lot more pleasant.
One of the things our family really appreciated was the outstanding communication we received from the team. We were constantly kept informed of Barbara's condition and were told exactly what was happening and what to expect next. When you're going through such an emotional and distressing time, being kept informed can make a big difference and I think it brought consolation to us all.
Then there were the simple things, like providing Tom with a warm cooked meal every day when he visited Barbara. It's a small gesture but it was a big help to the rest of the family – it was just one less thing for us all to worry about. And that's the thing with hospices – they didn't just look after Barbara, they were there for the whole family. Myself, my wife Karen, her brother Paul and his partner – the staff looked out for us all whenever we visited. It was a really sad and difficult time but it was comforting to know that we had people taking good care of Barbara and us too.
The staff really were incredible. Of course, the doctors and nurses are experts in what they do and ensured Barbara was comfortable and not in any pain – they were so kind and gentle with her and looked after her so well.
But it's not just the doctors and nurses who were amazing – everyone at the Hospice seemed to go above and beyond in supporting you in some way. The reception staff were polite and helpful; the cleaner would come and speak to us, enabling our minds to be occupied by something else for a few minutes; the gardener created a lovely outdoor space so we could take a walk and compose ourselves if needed; and the staff serving refreshments in the café would provide a welcoming environment when we needed to take a short break from the bedside. I could go on and on – everyone was just so kind to us during that really difficult time.
When Barbara became ill, myself and Karen decided to get married. The wedding was hastily organised but the Hospice were brilliant in helping to ensure Barbara could be a part of our special day. They advised on how they would help her to get dressed up, put some make up on, and even how they could get Barbara's hairdresser to come in so she could have her hair styled. It was an overwhelming gesture and one that really touched us.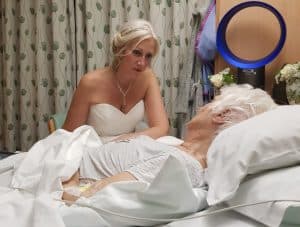 However, sadly, Barbara deteriorated very quickly and was too poorly to attend our wedding. We were devastated but on the evening we got married, we went to the Hospice to spend time with Barbara. Karen was still in her wedding dress and I was still in my suit and despite the circumstances, we were made to feel really special. All the staff came and made a real fuss of Karen in her wedding dress, making us feel so welcome.
Shortly after our wedding, Barbara died in the early hours of the morning. Karen and I were by her bedside when it happened and I remember it being so calm and peaceful. The staff had brought us beds and bedding, so that we could stay the night with her and I'm so glad they did, as it meant we were by her side.
In the weeks following Barbara's death, my daughter Lucy (then aged 12) came with me to visit the Hospice as we had raised £620 at Barbara's funeral. Even then, the staff were still wonderful. Lucy hadn't been to the Hospice before as her nanny was very poorly and we were worried about the impact it might have on her. However, the staff gave Lucy a tour, showing her the lovely garden and the room where her nanny stayed, which I think helped Lucy very much indeed.
It was because of this kindness that myself and my youngest daughter, Katy (aged 10), wanted to raise even more funds for the Hospice. We were thrilled when we found Ride the Reservoir as Katy loves cycling. The newly-added family route was perfect for us as it was 25km.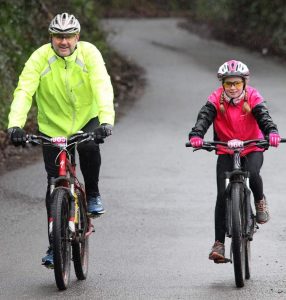 The event was brilliant! Not only was it very well marshalled and signposted but there was lots of traffic-free cycling with beautiful scenery – perfect for families. We particularly enjoyed seeing parts of South Birmingham you never get to see by car.
Katy was delighted when she crossed the finish line and it was so lovely to have a few people stood clapping as she did so. It was a wonderful achievement and I know Nanny Barbara would be immensely proud of her for raising funds in her memory for the Hospice. It may have been a cold, wet and windy day but we're already looking forward to taking on Ride the Reservoir again in 2021.
Thank you to everyone at the Hospice for the compassionate care you showed towards Barbara and our family. The Hospice surprised us in the most positive of ways, making a sad situation so much easier to cope with.
Thank you Dean for sharing your story with us. If you'd like to find out more about our different services and how we can support you and your loved ones, please take a read here.
If you've been inspired by Dean and Katy's fundraising and would like to fundraise for the Hospice, sign up to take part in this year's Ride the Reservoir or take a look at other ways that you can support us here.