Paul has been visiting the hospice each week as part of our 12-week therapeutic programme, designed to help patients manage all aspects of their illness – from day-to-day admin to health and wellbeing.
For people like Paul, who was diagnosed with throat cancer, attending the sessions each week has been a way of meeting people with a similar diagnosis who he can relate to – helping them as much as they help him.
Paul, 69, says: "To me, the hospice is a great place of support. It's important to me to meet other people with similar conditions who I can talk and relate to.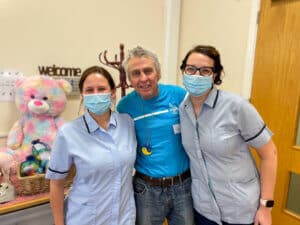 "I feel comfortable when I come here, and that I can be myself. I love chatting to the others here; I try to make people feel comfortable too if they are new or just if they're having a bad day.
"I love making people's days a bit brighter."
Paul, who is a huge Aston Villa fan and a Brummie, said our recent name change to Birmingham Hospice makes him feel proud.
After attending Commonwealth Games events in Birmingham last year, Paul felt prouder than ever to call Birmingham his home. For many people, it was a huge showcase of what our city has to offer.
To Paul, the hospice is part of that.
He says: "I am so proud to be a Brummie. I feel like this new name represents me. We all need things to be proud of in life, and the way the nurses and volunteers look after us here is just amazing; I feel proud to be part of it."
Recently, for Valentine's Day, Paul wanted to show his appreciation for the hospice teams and volunteers.
On the big day, he wrote a card thanking them and read it out in front of everyone.
"Valentine's Day is a special day, and to me, the true meaning of love is to say thank you to people who do an amazing dedicated job," he says. "I was due to attend the hospice that day, so what I wanted to do was say thank you to everyone there.
"I call them my beautiful people – all the volunteers and staff here. It reminds me of my favourite song, Wonderful World, Beautiful People by Jimmy Cliff."
As well as support from the hospice, Paul explained how one of the things that helped him through his diagnosis was keeping his flat neat and tidy – especially his beloved record collection.
However, he no longer had a record player to listen to them on. After mentioning it to someone from the hospice's Personal Health Budget (PHB) Team, Paul was surprised to find one delivered straight to his doorstep one day!
The PHB Team provides bespoke care and support in the form of goods, services or personal experiences which make a positive difference to patients' end of life care. For Paul, the chance to listen to his favourite records again was a wonderful gift.
Paul adds: "Coming to the hospice, as well as going to the football, of course, is definitely the highlight of my week."
Thank you, Paul, for sharing your story with us!