Right at this moment, our doctors, nurses and frontline staff are working hard to provide urgent care and support during this unprecedented time. People like Rachel.
Here at Birmingham St Mary's Hospice, Rachel is one of #OurHospiceHeroes. As a Triage Nurse, Rachel will assess a patient's needs to help decide the best package of care for them. Due to the Covid-19 pandemic however, Rachel's role has changed quite a bit so we caught up with her to find out more…
Hi Rachel, can you tell us about your role at the Hospice?
When someone coping with a life-limiting illness is told that the Hospice could be an option for them, it's my responsibility to help them get the personal, high-quality care they deserve. This involves assessing a patient's needs and wishes, helping to determine the best hospice service for them to use. So for example, I might look into whether the patient wants to receive care at home or see if they could benefit from our specialist breathing programme. Ultimately, it's about looking at what's most important to the patient and ensuring they get the care they want and need.
How has your role changed during this difficult time?
The Covid-19 pandemic has had a big impact on hospice services. As you would expect, we're seeing more patients with coronavirus symptoms, who will need extra care and support as they fight the virus. And sadly, we're also seeing more people dying from Covid-19 who will need our expert care in their last days of life. It's a heartbreaking reality, but our teams are here to support patients and their loved ones during this incredibly difficult time.
To help meet this increase in the number of people needing hospice services, Birmingham St Mary's has joined forces with John Taylor Hospice and Marie Curie (West Midlands) to create HoBS (Hospices of Birmingham and Solihull). We believe that by working together, we can make sure that care is better coordinated across the city, helping more people get the care they need as quickly as possible.
Being part of the HoBS team has meant my role has changed quite a bit. I'm currently working from a central hub with staff from all three hospices. There's a lot of people here with different specialisms, including: nurses, palliative care consultants, healthcare assistants, social workers, bereavement counsellors, occupational therapists, physiotherapists and more. Together, we're running a telephone hotline service where we can assess a patient's or relative's needs and then decide the best package of care for them.
I feel incredibly proud to be part of this team, especially as we got this service up-and-running in just a matter of weeks. I truly believe that we're stronger working in partnership, and together, we can deliver what matters most – urgent care to people and their loved ones during this terrible and uncertain time.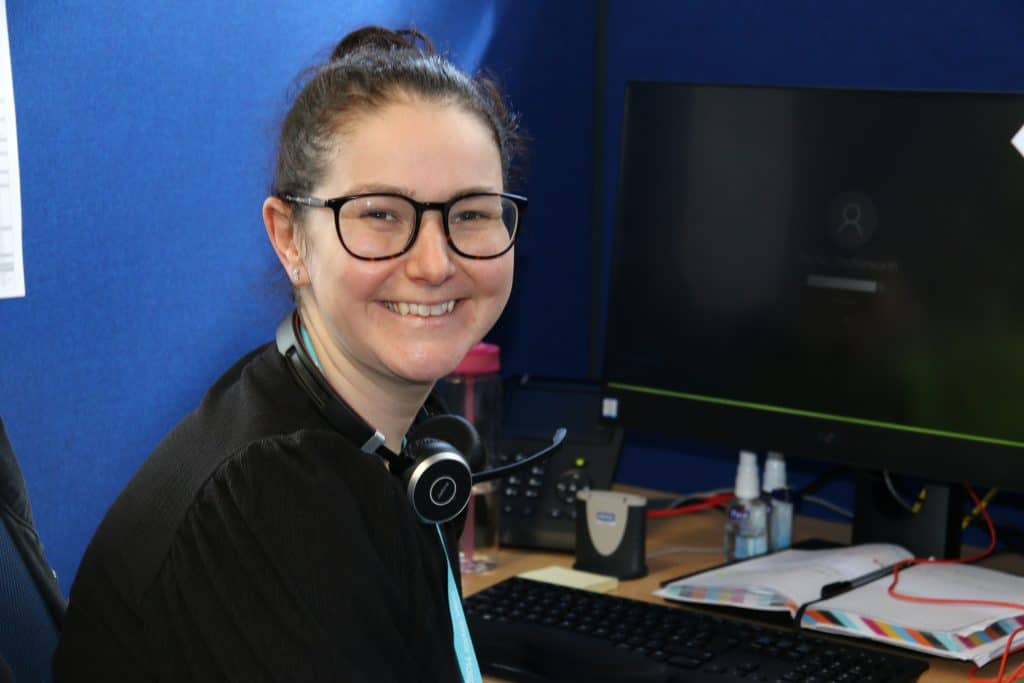 How is your role making a difference to people right now?
Quite simply, it's about making sure that the right care gets delivered to the right person at the right time. Our health and social services are experiencing huge pressures at the moment and we want to make sure no one misses out on the care they need or deserve.
Why is hospice care so important?
So many people assume that hospice care means 'the end' but this simply isn't true. Yes, we do care for people who are at the very end of life, making sure they experience a 'good death'. But a big part of hospice care is helping people to live well with their illness, as well as supporting partners, relatives, loved ones and carers too.
Even during this pandemic, we're making sure that the care patients receive is compassionate, respectful and dignified. We're doing all we can to make sure people aren't alone, frightened or confused during this time.
Who's keeping you company when you're at work?
The bonus of being part of the HoBS team is that I've met some lovely new colleagues from John Taylor Hospice and Marie Curie. And of course, the brilliant team from Birmingham St Mary's are doing a great job with supporting each other during this crisis.
What's your go-to quarantine boredom buster?
There's been a lot of FaceTime with my friends, catching up on old cricket games, playing virtual quizzes and watching old episodes of The O.C!
And finally…
I just want to thank everyone who has been supporting the Hospice during this time. Whether you've sewn laundry bags for our nurses' uniforms, provided vital PPE or done some fundraising, we've been overwhelmed with your kindness and generosity so thank you.
And finally, I just want to say a big thank you to everyone who is working hard to care for people across Birmingham, Sandwell and Solihull. You're all doing an amazing job.
Our frontline staff – including Rachel – are #OurHospiceHeroes. They're doing all they can to provide around-the-clock care on our Inpatient Unit, as well offering critical support in people's homes, on the phone, and via digital consultations.
And it's not just our patients who we're supporting. We're also working in partnership with local hospitals, GPs, District Nurses, care homes and more to ensure more people get the care they deserve during this uncertain time.
But heartbreakingly, at a time when people desperately need our services, we're losing out on crucial funds. We've had to postpone fundraising events, community activities and corporate partnerships, as well as temporarily close the doors to all 17 of our charity shops. But our care hasn't stopped.
If you can help more people get the care and support they need, please make a donation or take on a virtual challenge here. Whatever you choose to do, you will be helping someone across Birmingham and Sandwell to receive the support they desperately need during these uncertain times.