Right at this moment, our doctors, nurses and frontline staff are working hard to provide urgent care and support during this unprecedented time. But as a charity, we can only keep doing this if we raise vital funding.
That's why, here at Birmingham St Mary's Hospice, Maria is one of #OurHospiceHeroes. As a Community Fundraiser (and now resident Quiz Master!), she's helping to unite the local community together to help raise much-needed funds for our care. We caught up with her to find out more…
Hi Maria, can you tell us about your role at the Hospice?
As a Community Fundraiser, I provide guidance to our wonderful supporters who want to do their own fundraising for the Hospice. This could be anything – from coffee mornings to climbing mountains, bake sales to birthday fundraisers. I also create campaigns that our supporters can get involved in, such as 'Raise Your Game'. Raise Your Game is a fun initiative for anyone who loves gaming – whether it's Minecraft or Monopoly – to get involved in and help raise funds for the Hospice.
It's my responsibility to provide resources, hints and tips to help make people's fundraising as enjoyable and fun as possible.
How has your role changed during this difficult time?
Unfortunately, Covid-19 has had a big impact on our fundraising events and activities. Due to social distancing, a lot of our supporters have had to postpone or cancel some of their events – but we're keeping in touch to provide ongoing support and to help them reorganise their events in the future.
Covid-19 has also meant that we've had to think up new campaigns and initiatives that are safe and will engage our supporters, all whilst helping to raise funds during this difficult time. We noticed a lot of people have been spending their lockdown getting creative in the kitchen, so we decided to create a Community Cookbook and ask people to send in their starter, main and dessert recipes to feature in it. We've received some delicious recipes so far, from tasty curries to sticky lemon drizzle cake, and soon the book will be on sale online. I love campaigns like this, as it helps bring the local community together to do something good for others.
And of course, another campaign we've launched that I must mention is our virtual Comfy Quiz – in which I've become the resident Quiz Master! It's a really fun event, with over a hundred people taking part in our once a month, Saturday night quiz. It's a great way to spend an evening in lockdown whilst supporting your local hospice.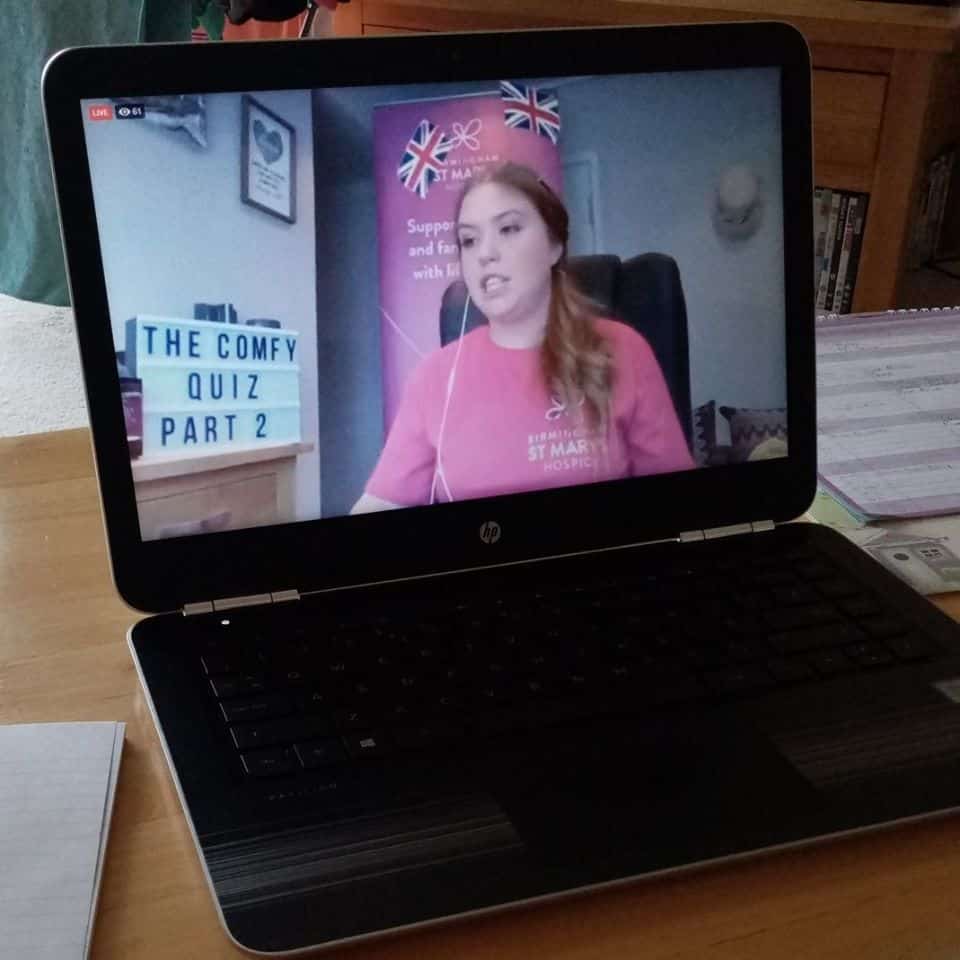 How is your role making a difference to people right now?
It costs £9 million a year to run the Hospice, of which 64% must come through voluntary donations. That's nearly £6 million we must raise via fundraising! Heartbreakingly though, at a time when people need our services more than ever, we're losing out on crucial funds because we've had to postpone fundraising events and activities.
That's why fundraising is more important than ever. We hope our virtual events and campaigns will help raise the funds needed to continue to care for patients and their loved ones when they need it most.
Why is hospice care so important?
I have had first-hand experience of hospice care and I think now, more than ever, it is so vital. Due to social distancing, many people will have been unable to say goodbye to their loved ones which I find heart-breaking. However, for those that have people under the care of the Hospice, knowing that their loved one will be getting support from our compassionate healthcare professionals and having a dignified death will hopefully provide some comfort during these challenging times.
Many things have had to be postponed but hospice care still continues and it's important that it does so, to ensure individuals and their families receive the best experience at the end of life.
Who's keeping you company when you're at work?
My friends and family – I've been having lots of video calls with them!
What's your go-to quarantine boredom buster?
Playing quizzes, upcycling furniture, and colouring.
And finally…
I just want to say a big thank you to everyone at the Hospice who is working so hard at the moment. Together, we're ensuring that we can continue to provide vital care and support to people living with life-limiting illness in our communities.
Thank you also to everyone who continues to support the Hospice during these challenging times. A small act of kindness from you is going a long way.
And don't forget to keep an eye on our social media channels to see how you can continue to support the Hospice or get involved with our events. Keep smiling and stay safe; together, we can get through this.
Our frontline staff – including Maria – are #OurHospiceHeroes. They're doing all they can so that local people living with life-limiting illness can continue to receive care and support during these difficult times.
And it's not just our patients who we're supporting. We're also working in partnership with local hospitals, GPs, District Nurses, care homes and more to ensure more people get the care they deserve right now.
But heartbreakingly, at a time when people desperately need our services, we're losing out on crucial funds. We've had to postpone fundraising events, community activities and corporate partnerships, as well as temporarily close the doors to all 17 of our charity shops. But our care hasn't stopped.
If you can help more people get the care and support they need, please make a donation or take on a virtual challenge here. Whatever you choose to do, you will be helping someone across Birmingham and Sandwell to receive the support they desperately need during these uncertain times.