Right at this moment, our doctors, nurses and frontline staff are working hard to provide urgent care and support during this unprecedented time. People like Jenny.
Here at Birmingham St Mary's Hospice, Jenny is one of #OurHospiceHeroes. She's a Clinical Nurse Specialist, providing care and support to people in their own home. During this difficult time however, her role has changed slightly so that she can care for even more people and their loved ones. We caught up with her to find out more…
Hi Jenny, can you tell us about your role at the Hospice?
I'm part of the community nursing team here at Birmingham St Mary's Hospice. As a Clinical Nurse Specialist, I help people who have a life-limiting illness to live as well as they possibly can, by helping them to manage symptoms, offering emotional support and listening to what is really important to them. I do this by visiting people in their own homes, as well as working alongside GPs and district nurses to ensure care is coordinated. I'm also here to support carers and relatives, helping to answer any questions they may have, discuss any worries, or sometimes just be a listening ear.
How has your role changed during this difficult time?
My role has changed quite a lot as the Hospice responds to the Covid-19 crisis. The majority of our patients are vulnerable and are therefore shielding, so where possible, we are telephoning them and offering support that way. We want to minimise their exposure to others, to help protect their safety and wellbeing.
Of course though, we recognise that we can't do this for every patient. Some will have very urgent needs and so it's vital that we still visit them in their home. When we need to do this, we wear the appropriate PPE (personal protective equipment), which has been a new thing to adjust to. As simple as it sounds, a smile can sometimes comfort somebody much more than words but even so, I think people are still reassured that we are able to see them and care for them in their home.
One of the biggest changes to my role is that I now spend most of my time at the HoBS hub. HoBS, which stands for Hospices of Birmingham and Solihull, is a new service which has been formed by three local hospices – Birmingham St Mary's, John Taylor Hospice and Marie Curie West Midlands. Together, we're offering a 24/7 telephone hotline service to all patients needing palliative care across Birmingham and Solihull. When somebody calls us, we can either give them support over the phone or help them get the care they need at home or at one of the hospices' Inpatient Units.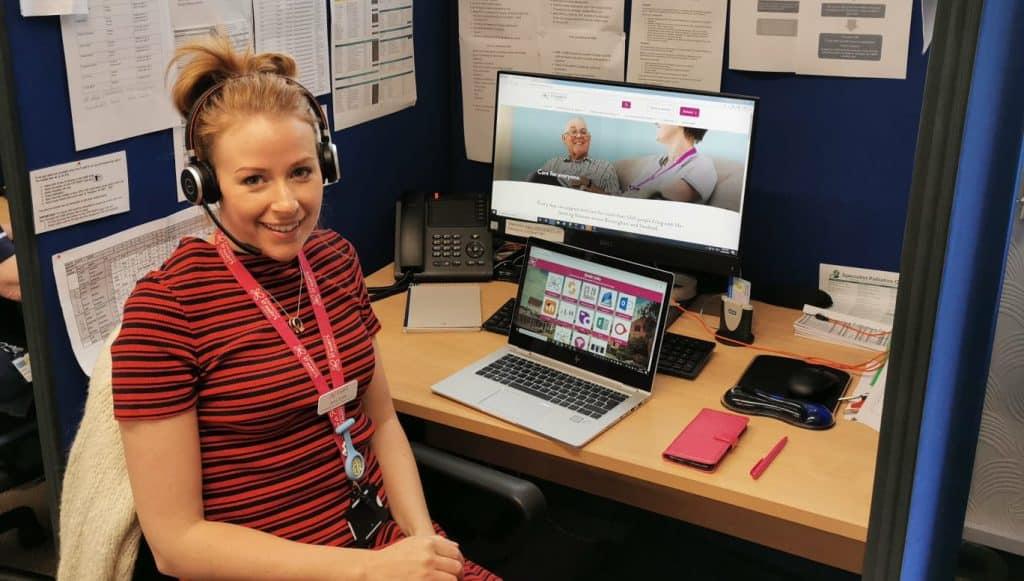 How is your role making a difference to people right now?
I think HoBS is an excellent new service for people across Birmingham and Solihull. Together, we are able to respond much more quickly to people who need advice and support – especially during worrying times like these.
Why is hospice care so important?
Hospice care is so important; it ensures people are truly listened too and supported at the most difficult time in their lives. Here at Birmingham St Mary's, our goal is to focus on the individual and their needs, helping to provide comfort and dignity at the end of life.
We give a people choice about where they are cared for and how they are cared for. A lot of people want to die in the comfort of their own homes and surrounded by their loved ones – and we can support people so that these wishes are respected, even during the Covid-19 crisis.
Who's keeping you company when you're at work?
At home, my partner and our little girl, Willow, are keeping me company. Willow has just turned one and she is so full of life – so she's keeping us very busy! Even after an emotional day at work, she always puts a smile on my face when I return home. She has no idea what is happening in the world right now, she's just happy to spend time with Mommy and Daddy.
What's your go-to quarantine boredom buster?
I enjoy nothing more than being curled up on the sofa, with a cuppa and some chocolate, whilst watching the latest documentary on Netflix. I'm also video calling my best friends every week, to catch up and check in with them. I've even set my Nan and Grandad up on FaceTime so that they can see Willow – and it's been lovely to see their faces when they chat. They haven't quite got the hang of it yet, but we're getting there…
And finally…
It's been a really challenging few weeks for us all but I am so proud of the team at Birmingham St Mary's. There are naturally some days when we all feel quite overwhelmed by the change but we never fail to make each other laugh and keep morale high.
I'd also like to thank all of our wonderful supporters. We are a charity and only partially funded by the NHS, so our supporters are so important in ensuring we can keep on providing our critical services during this time.
Our frontline staff – including Jenny – are #OurHospiceHeroes. They're doing all they can to provide round-the-clock care on our Inpatient Unit, as well offering critical support in people's homes, on the phone, and via digital consultations.
And it's not just our patients who we're supporting. We're also working in partnership with local hospitals, GPs, District Nurses, care homes and more to ensure more people get the care they deserve during this uncertain time.
But heartbreakingly, at a time when people desperately need our services, we're losing out on crucial funds. We've had to postpone fundraising events, community activities and corporate partnerships, as well as temporarily close the doors to all 17 of our charity shops. But our care hasn't stopped.
If you can help more people get the care and support they need, please make a donation or take on a virtual challenge here. Whatever you choose to do, you will be helping someone across Birmingham and Sandwell to receive the support they desperately need during these uncertain times.