Right at this moment, our doctors, nurses and frontline staff are working hard to provide urgent care and support during this unprecedented time. People like Jane. 
Here at Birmingham St Mary's Hospice, Jane is one of #OurHospiceHeroes. She's currently working at our 'Hospices of Birmingham and Solihull hub' – the HoBS hub – where she's providing urgent care and support to patients during this difficult time. We caught up with her to find out more…
Hi Jane, can you tell us about your role at the Hospice?
I'm a Clinical Nurse Specialist at Birmingham St Mary's, working within the community team. Our team support people who have a palliative diagnosis, caring for them either in their own homes or at one of our Satellite Clinics across the city. We assess people holistically – so that means, not only do we focus on any symptoms they may be struggling with but we also provide psychological, emotional and spiritual care for both the patient and their loved ones.
Another integral part of my role is to help 'join up' care for the patient, so I will regularly contact their GP, district nurses or any other healthcare professionals who are also involved in their care. I know this can be a huge relief for patients, as it means they don't have to repeat so many conversations to different healthcare professionals.
Finally, I'm also involved in educating other professionals across the city – such as community nurses – to help them gain the skills and knowledge needed to deliver high-quality end of life care to their own patients. This is vital in ensuring more people can receive palliative care.
How has your role changed during this difficult time?
The Covid-19 pandemic has inevitably changed the way we work. I am used to seeing patients in person to assess their needs and support them but as many of our patients are classed as vulnerable, I've had to limit visits to protect them. However, I am still able to visit some patients if there is a very urgent need, by wearing the necessary PPE.
This means that a lot of the support I am currently providing is over the phone. It's a very different way of working but it means people can still receive our care and support during this critical time. We're also planning to use video consultations very soon, so that we can access patients' symptoms visually.
One of the biggest changes to my role though, is joining the team at HoBS (Hospices of Birmingham and Solihull). HoBS is a joint service run by three local hospices – Birmingham St Mary's, John Taylor Hospice and Marie Curie West Midlands. Together, we provide a centralised hub to ensure people have access to specialist advice and support 24 hours a day, 7 days a week. We do this by offering a telephone hotline service, where we can assess a patient's needs and decide whether they need support over the phone, at home or at one of the three hospice's inpatient units.
Working at HoBS has altered our team's working patterns, which has seen some of us working nights. Like I said, it's been a big change but it's been a vital one, as it will mean people can access our support at whatever time they need it.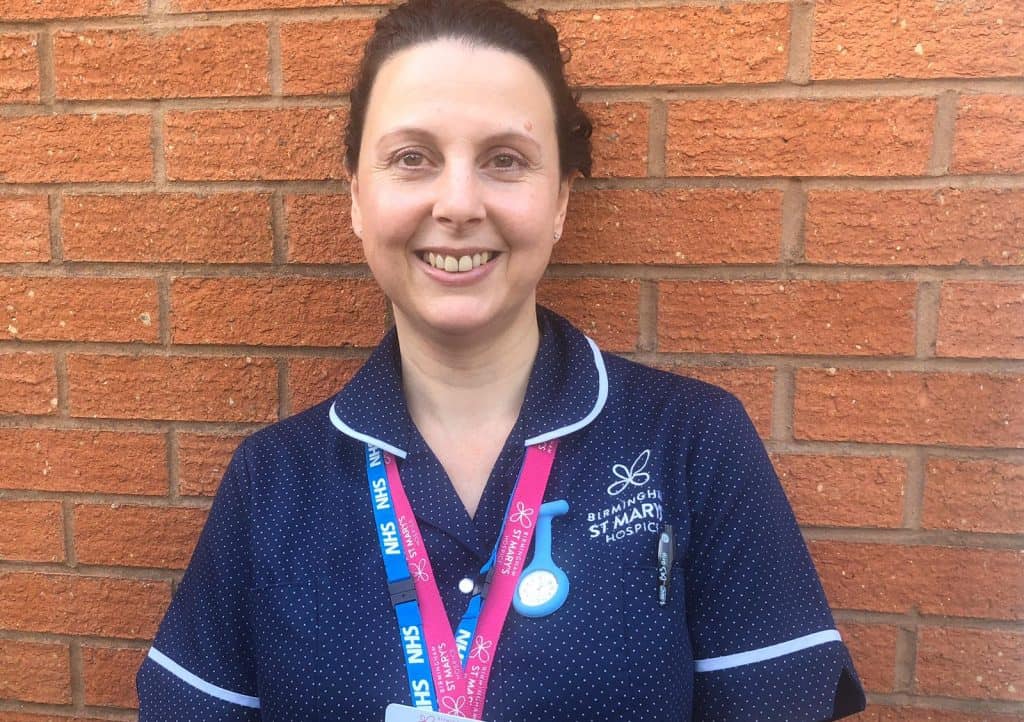 How is your role making a difference to people right now?
At the Hospice, we are continuing to offer support to those who need our care, including those affected by Covid-19. The need to self-isolate has impacted a lot of people we care for, as it has made it more difficult for families to support them. Therefore, we are signposting people to other community services, such as food deliveries, and referring them to other hospices services, like our amazing Hospice at Home and Family and Carer Support teams.
Why is hospice care so important?
I think there a lot of fears around hospice care and the significance of this. It's so good when we can challenge those stereotypes and people come to understand that hospice care is so much more than just being there at the end of someone's life. We try to focus on maximising quality of life, even if other options for treatment have been exhausted.
Who's keeping you company when you're at work?
I'm so fortunate to have excellent colleagues and, despite being busy, it's great to see them in the office. It provides a sense of normality at a time that's anything but normal.
What's your go-to quarantine boredom buster?
I've had no time to be bored so far, as I'm just finishing my non-medical prescribing course. However, on the days I'm not at work I'm trying to home school my two children (trying is definitely the right word to use in every sense!). We're enjoying baking and I've even made jam! It's good to be able to get out with my husband and children for a walk in this great weather and enjoy the unexpected benefits of everywhere being quieter, like birdsong on normally busy streets.
And finally…
Hospice care is just as vital now as it has always been, helping to make a difference to those we support. I am so proud of all my colleagues throughout the Hospice who do their very best for the people we care for all of the time, but have now had to rise to this new and unprecedented challenge.
Our frontline staff – including Jane – are #OurHospiceHeroes. They're doing all they can to provide around-the-clock care on our Inpatient Unit, as well offering critical support in people's homes, on the phone, and via digital consultations.
And it's not just our patients who we're supporting. We're also working in partnership with local hospitals, GPs, District Nurses, care homes and more to ensure more people get the care they deserve during this uncertain time.
But heartbreakingly, at a time when people desperately need our services, we're losing out on crucial funds. We've had to postpone fundraising events, community activities and corporate partnerships, as well as temporarily close the doors to all 17 of our charity shops. But our care hasn't stopped.
If you can help more people get the care and support they need, please make a donation or take on a virtual challenge here. Whatever you choose to do, you will be helping someone across Birmingham and Sandwell to receive the support they desperately need during these uncertain times.