Here at Birmingham St Mary's Hospice, Helen is one of #OurHospiceHeroes. As the Head of HR, Helen is helping to look after our frontline staff, so that they can continue to provide urgent care and support during this unprecedented time. We caught up with her to find out more… 
Hi Helen, can you tell us about your role at the Hospice?
As Head of HR, I help ensure that all of our people, plans and activities support the Hospice's mission – 'Hospice Care For All'. For us at the Hospice, the people we care for and their loved ones are at the very heart of everything we do – and so my team helps to support that priority by embedding it into the organisation's culture, promoting learning and development opportunities, and more.
Over the past two years, the HR team has had a real focus on improving the wellbeing for our staff and I'm really proud of the initiatives we've put into place so far.
How has your role changed during this difficult time?
As you would expect, my role has completely changed over the last few weeks. Not that long ago, I'd never heard of coronavirus, furlough, Covid-19 testing; I've had to learn quickly, translating news and changing government guidance into what that means for the Hospice and our workforce. It's certainly been a big learning curve!
I miss having face-to-face interaction with everyone at the Hospice but having the technology to support being at home working – and particularly being able to engage through video calls – has been great and made a big difference. The HR team have embraced this new way of working and we'll be looking at what we've learnt about flexible and agile working to develop our services and ways we work in the future.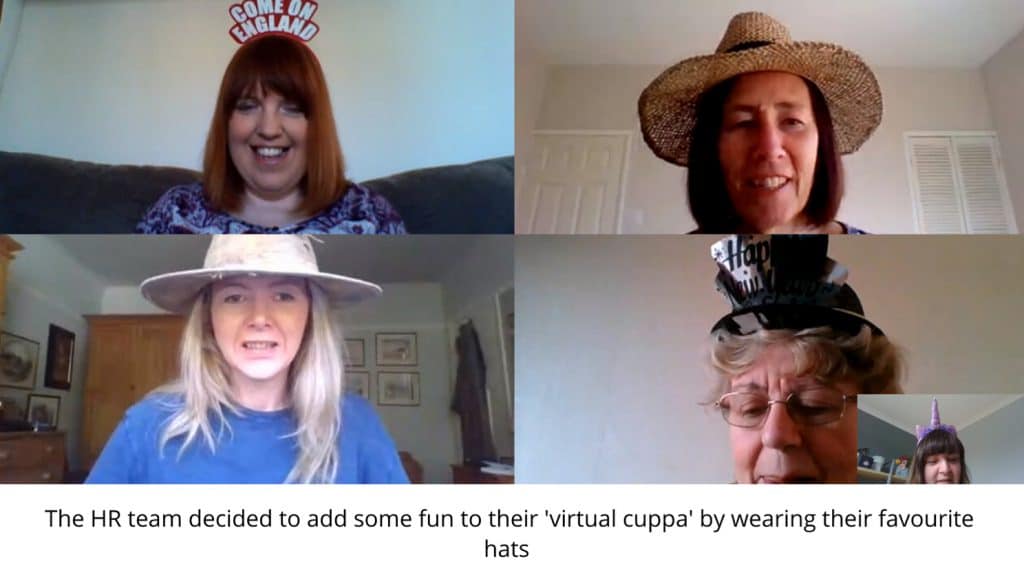 How is your role making a difference to people right now?
People are naturally feeling very anxious at the moment, and I hope that in some small way I've been able to support the workforce at Birmingham St Mary's by providing them with information, resources and advice during this difficult time. In particular, our team have been sharing useful tools that may help staff with their mental wellbeing – such as encouraging teams to enjoy 'virtual cuppas' with their colleagues via video calls, advice on working from home, and where they can get one-to-one support should they need it.
I'm also organising all the Covid-19 testing for our staff on a daily basis. This is essential as it will help keep people safe – both patients and our staff – and it could help reduce the spread of the virus.
Who's keeping you company when you're at work?
My son is keeping me company whilst I am at home working. Although, more often than not, he can be found on his PC gaming with online friends around the world!
I also speak to my mum and sister every day; we've really got into FaceTime which I used to hate. I realised I never really spoke to friends on the phone – we'd text and arrange to meet – but not call each other. I've changed this and now love a long chat, particularly with my closest friend who lives in Northumberland. Our current phone call record is five hours!
What's your go-to quarantine boredom buster?
I don't think I've had time to be bored yet. I've certainly never done as much housework as I have done this couple of months, although, I've enjoyed being active round the house and feeling live I've achieved something. I'm also completing a coaching qualification which is now being delivered remotely instead of face to face, so have homework to do for the first time in a fair few years.
I've been watching a lot of old 'Friends' and 'Sex and the City' episodes in the evening, as well as cooking all my meals from scratch – I didn't realise how much 'fast food' we used to rely on!
And finally…
I just want to thank the HR team for all their support, hard work and dedication over the last few weeks – and they make me smile every day. They work so hard and together, we are trying to do everything we can to support the wider hospice team during this difficult time. I feel very proud to be part of this team and to work for the Hospice.
All of our staff – including Helen – are #OurHospiceHeroes. Whether they're our frontline staff who are providing critical support to patients and their loved ones, or our 'behind the scenes' staff who are ensuring the smooth running of our services, every one of them is making a difference today.
During this crisis, our staff are doing all they can to provide round-the-clock care on our Inpatient Unit, as well offering critical support in people's homes, on the phone, and via digital consultations.
But heartbreakingly, at a time when people desperately need our services, we're losing out on crucial funds. We've had to postpone fundraising events, community activities and corporate partnerships, as well as temporarily close the doors to all 17 of our charity shops. But our care hasn't stopped.
If you can help more people get the care and support they need, please make a donation or take on a virtual challenge here. Whatever you choose to do, you will be helping someone across Birmingham and Sandwell to receive the support they desperately need during these uncertain times.