Right at this moment, staff across the Hospice are working hard to provide urgent support during this unprecedented time. People like Camilla. 
Here at Birmingham St Mary's Hospice, Camilla is one of #OurHospiceHeroes. As Clinical Education Lead, she's been coordinating essential training to healthcare professionals across the region, to ensure they have the skills they need to deliver ongoing care and support to patients and their loved ones during this difficult time – including some who have been diagnosed with Covid-19. So we caught up with her to find out more…
Hi Camilla, can you tell us about your role at the Hospice?
As Clinical Education Lead, I'm responsible for coordinating the delivery of all Palliative and End of Life Care education within the Hospice and supporting our various healthcare partners across Birmingham and beyond. As a teaching hospice, we are committed to sharing our 40 years of experience in this specialist field and we do so through our range of courses, bespoke training and clinical placements.
How has your role changed during this difficult time?
In response to the Covid-19 pandemic, we've had to completely change not only the way in which we deliver training to healthcare professionals and providers, but also the speed at which we respond to people's needs.  With more talk of dying and death than ever before in the media, there lies an expectation for 'everyone' to become experts in topics such as Advance Care Planning.  There is also a growing need to support other healthcare providers to ensure they can best help their patients at this difficult and challenging time.  This, coupled with an expected increase of palliative and end of life support in the community, means the training we offer has never been so vital.
By shifting delivery of our training to a live interactive webinar format, we've been able to respond rapidly to educational gaps and have already supported over 40 GPs and teams of nurses in Birmingham Community Trust with palliative and end of life training including Advance Care Planning webinars. This is very new territory for us and we are learning as we go with this technology, but we're off to a promising start and feedback from the sessions has been overwhelmingly positive.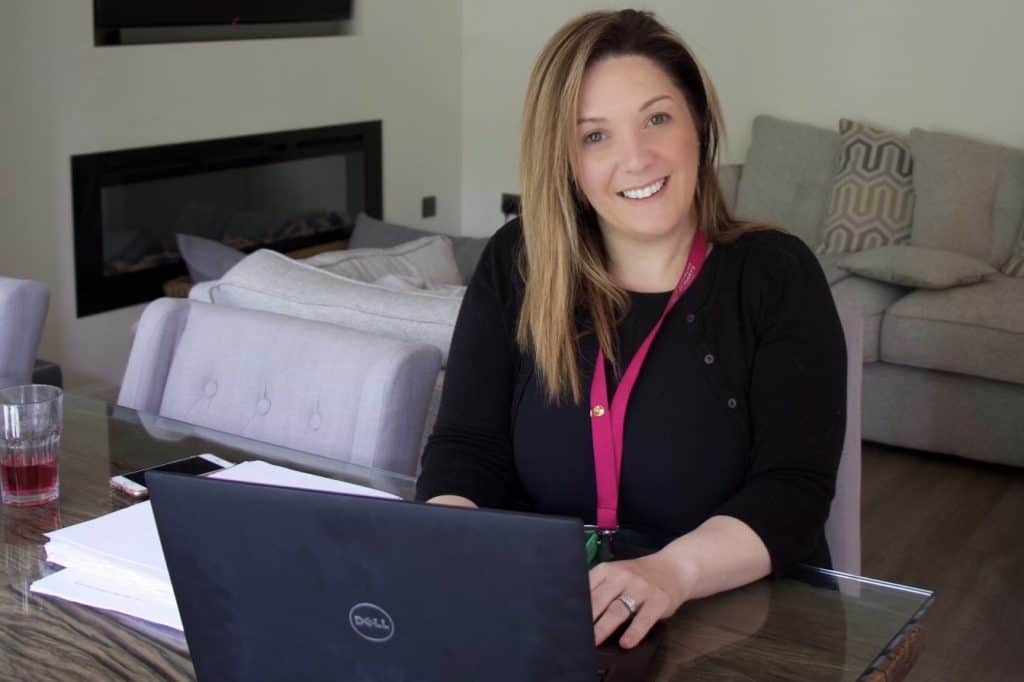 How is your role making a difference to people right now?
By sharing knowledge, experience and expertise we are ensuring healthcare professionals across the region are skilled, confident and able to meet the complex end of life and palliative care needs of patients and their loved ones.
Why is hospice care so important?
Hospices support patients, families and carers when they are most in need.  From helping people come to terms with the realities that lie ahead, to working out what's going to be most important to them in the time that's left, then offering symptom/pain management to help someone live as well as possible until they die, it's all incredibly vital and really does make a difference to people living with life-limiting illness.
Who's keeping you company when you're at work?
I am able to complete the majority of my work from home, so my husband, three children and Hugo the dog are keeping me company.  I miss seeing my colleagues but we are keeping in touch regularly via video conferencing.
What's your go-to quarantine boredom buster?
It's a bit of a mix, ranging from yoga and reading for relaxation, to face timing friends and family and catching up on Grey's Anatomy.
And finally…
I'm passionate about the importance and impact of education at the best of times, but now, more than ever, I feel we have a duty to help ensure that the wider healthcare community has the skills and confidence it needs to deliver compassionate, expert end of the life care.  This is a challenge, but I'd like to thank my amazing colleagues who are supporting with this and are as committed to delivering education as I am.  I'm so proud of them all!
While all our face–to-face education is currently suspended because of coronavirus, if anyone is interested in participating in a webinar or accessing education material, please do get in touch (education@birminghamhospice.org.uk).  Upcoming topics include Identifying a dying patient, Medication and symptom management and Advance Communication Planning (ACP & ReSpect), but we are also able to offer a variety of bespoke webinars to suit your requirements.
Our frontline staff – including Camilla – are #OurHospiceHeroes. Our nurses are doing all they can to provide around-the-clock care on our Inpatient Unit, as well offering critical support in people's homes, on the phone, and via digital consultations.
We're also working in partnership with local hospitals, GPs, District Nurses, care homes and more to ensure people get the care they deserve during this uncertain time.
But heartbreakingly, at a time when people desperately need our services, we're losing out on crucial funds. We've had to postpone fundraising events, community activities and corporate partnerships, as well as temporarily close the doors to all 17 of our charity shops. But our care hasn't stopped.
If you can help more people get the care and support they need, please make a donation or take on a virtual challenge here. Whatever you choose to do, you will be helping someone across Birmingham and Sandwell to receive the support they desperately need during these uncertain times.