One of our amazing supporters Neil is taking on a 707 mile bike ride in memory of his friend Matt who was supported by the Hospice.
"We lost our friend Matt Kendall in 2015 and the Hospice very kindly cared for Matt during his illness. The Matt Kendall Foundation was created as one of Matt's final wishes and for the last five years I have been raising money for this fantastic cause. This has included walking from Birmingham to London, cycling from Guilford to Kendal and auctioning off a bass guitar signed by Paul Weller and the Stone Roses. Unfortunately, the Foundation has closed its funding doors this year so as a final hurrah I will be happily raising money for Birmingham St Marys Hospice"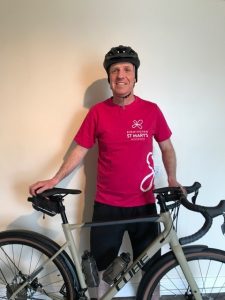 Neil will be starting his 16 day cycle from his home town in Teignmouth, Devon on 3rd August, winding his way up to Kendal in Cumbria. He will be using the UK canal networks to help him with his journey and will be joined by friends along the way.
"I am looking forward to having my friends join me for a cycling stage, meeting me along the way of my challenge or celebrating with me at the end of the day. I want to look back at my phone after these sixteen days and see photos that I will remember and cherish forever when thinking of Matt. Matt (Donnie the Coach) will always be in our hearts and thoughts."
We want to say a big thank you to Neil for taking on such an incredible challenge in support of the Hospice. If you want to follow his progress or support Neil on his challenge please visit: www.justgiving.com/fundraising/rememberingdc
If you have been inspired by Neil to take on your own fundraising challenge, find out more about how we can support you at: https://www.birminghamhospice.org.uk/my-fundraiser/