Nathan's life was turned upside down and inside out, when his wife Rebecca was diagnosed with cancer in July 2020. She passed away at the Hospice, just four weeks later.
Rebecca suffered incredible pain, and after a short time at the Queen Elizabeth hospital, was readmitted to the Hospice inpatient unit where she spent the last two weeks of her life. She passed away with Nathan and her daughter Eva by her side, holding her hand.
Nathan was hugely grateful that he and Eva were able to be with Rebecca in her final days, at a time when visiting had to be carefully assessed because of the Covid pandemic.
Being given the time to ask questions and discuss his concerns with doctors and nurses, helped him get through the most difficult of times. He wasn't expecting staff to care so much for him and his family too, and their help to bring Eva's birthday celebration forward, so she could be with her mother on her special day, meant a huge amount. This is his story. 
I met Rebecca online 17 years ago, we eventually met up just before her 29th birthday and we've been together ever since. We have a daughter, Eva, who turned 13 a few days after Rebecca passed. Rebecca also has a son Josh who is 21.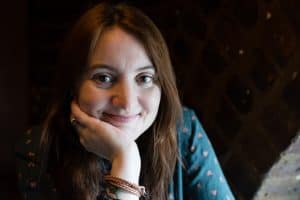 I don't like using the word 'was' but Rebecca was a kind person, caring and thoughtful, with a great sense of humour. She had a wonderful intelligence about her, though she wouldn't agree with that; she never really thought that highly of herself, but she was a wonderful woman.
She was diagnosed with cancer on a Thursday and within an hour or so of getting home had to be admitted to A&E with severe pain.
When she was back home a Birmingham St Mary's nurse came and assessed her, and asked if she wanted to go into the Hospice to get her pain under control. To my surprise, Rebecca agreed, and it suddenly hit home how much she was suffering.
It was the end of July so there were restrictions of only one visitor per day at the Hospice because of Covid. So I would go in on one day and then her parents and her son Josh visited on others. Those days I could only phone or text her. Eva wasn't allowed to visit because under 16's weren't allowed at that point.
Suddenly to have the diagnosis and then have her taken away and not being able to be with her was extremely difficult.
She was transferred for five days to the QE hospital for assessment for a potential bowel blockage. During that time the pain continued to get worse, and by the time she went back to the Hospice, she was a different person. But she didn't complain.
When it was thought she only had a few days left, some of the restrictions were relaxed, Eva was allowed to come in and see her with me which was a great comfort.
Throughout, the staff were amazing. There was great care and attention across the board, from the doctors, nurses, receptionists, the catering team and the cleaners. Everybody was friendly, respectful, and always asked how we were.
They gave me the opportunity to ask questions, to talk about how I was feeling, about how I was coping and managing. It was an incredibly stressful period, I had worry, fear and little sleep. If I hadn't had that support I would have had a breakdown part way through.
So being there at those last weeks, was huge for me. I'm incredibly grateful that when things were getting close to the end for Rebecca, some of the restrictions were able to be assessed and reviewed to just allow me to sit with her.
There are so many moments that stand out. I remember the doctor who called me when Rebecca was transferred over to the QE just to check she was OK. She'd gone through the difficult conversations around resuscitation with Rebecca earlier that day and made sure she'd understood everything properly so she could make her decision.
I was surprised and hugely grateful that the doctors at the Hospice were able to take time to have conversations with us both so we could talk through worries and concerns.   I said that to one of the doctors, not meaning any disrespect, and she told me that's why she works at Birmingham St Mary's, because it allows a more personal level of involvement that you aren't given time for in other environments.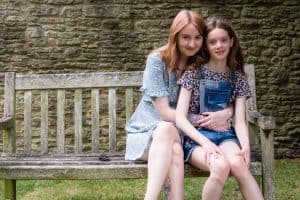 With Eva's 13th birthday approaching, I was anxious that it might coincide with Rebecca's final day. A nurse suggested we brought it forward, so we did. We put a couple of balloons up in the room and Eva was able to open her presents beside her mom. I'm so grateful that we did because Rebecca passed the following day.
It wouldn't have crossed my mind to do that. But you've got people at the Hospice looking out for you. And suggesting things they think might help the whole family.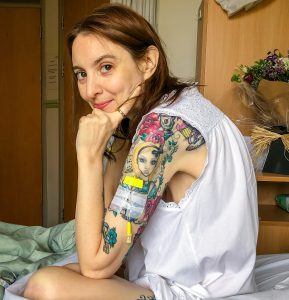 When she passed away, Eva and I were with her. Her breathing suddenly went from nice, calm breathing to 30 seconds between breaths. It was very quick, and we were both able to hold her hand, to tell her that we loved her and that all her friends and family did.
Afterwards, the nurses allowed me to take as long as I needed. I wasn't rushed away.
I would like to say Rebecca didn't suffer but she did, she suffered a lot. Not through anyone's fault; it was just too late in the development of the disease. But everything that could have been done, was. And that's the comfort I have. She passed away peacefully, just drifting off to sleep.
I'm now having bereavement counselling from the Hospice and Eva has had contact with their children's bereavement service. The team helped Rebecca and Eva do a hand cast together, and gave her a memory box to fill with things that remind her of her mom. I also managed to get Rebecca to record a message onto a device that goes into a teddy bear. I'm really pleased to have had the opportunity to create some lasting memories for Eva.
I saw the Enchanted Walk, on a poster, when I was at the Hospice, and I knew I wanted to do it as soon as I saw it. I thought it would be nice to do something to focus on Rebecca, and to raise money for the Hospice which was important to me. I never thought I'd raise over £3,000 – I've been blown away by people's generosity.
The care that Rebecca had was exceptional and there are going to be other people who need that support. It's vital that Birmingham St Mary's services are available and it's important that I continue to make donations and support where I can for Rebecca. It's a way of saying thank you.
Thank you Nathan for sharing your story with us. If you would like to help support more families like Nathan's, please take a look here.