Michael Collins has been attending our weekly Day Hospice sessions and shared his fascinating life story with other attendees and our wonderful hospice teams after writing a book full of his memories.
Michael was born and bred in Edgbaston, not far from our Selly Park site – where he attends weekly sessions at the Day Hospice. He recently turned his many memories from Birmingham and beyond into a book after being inspired by his granddaughter's school history project.
After enjoying the company of everyone at the Day Hospice and getting to know the kind and welcoming hospice teams, Michael said he felt comfortable sharing the book with them and brought it in one day.
"I've been coming to Day Hospice for a couple of months now," he said. "I enjoy every second of it.
"I like the people who come here, and all the staff and the volunteers are lovely. I live on my own – it can be isolating at times so it's good to come here for the day.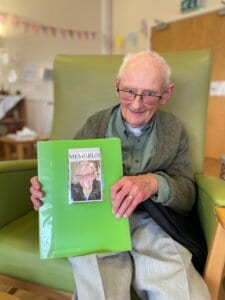 "I was so surprised at how many people have the same conditions as me, who also come here. I'm able to talk to them about it. I have a variety of health conditions, mainly heart failure. I've had a pacemaker fitted so I talk to others who also have one which is interesting."
Michael's book spans decades and in it he talks about his various jobs and his time in the Royal Air Force, how he met his wife of 55 years, Kathleen, and some of his earliest memories.
He shared these memories of his time in the RAF: "I was conscripted to join the RAF as a supply clerk. I did all my exams and immediately became a corporal.
"I was based in Staffordshire for the most part, and I used to cycle back home to Birmingham at the end of the day, so I could sleep in my own bed, and then I'd return early in the morning before the shift started."
When asked why he decided to write the book, Michael said he was inspired by two things.
"After my wife died, my son said he felt like he knew more about his mum than he did about me," he said. "I wanted to change that.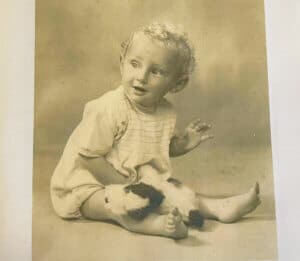 "Also, one of my granddaughters had a project at school to write all she could find out about World War II. She knew I had lived through it and so asked me to help her with her project. I realised I could remember quite a few details, from early on in my life, so I thought I would write it all down.
"All my granddaughter's teachers were so impressed with her project, they displayed it in the corridor at school. I can still picture things in my mind so clearly and can remember details well that I turned my memories into a book of my life."
The Day Hospice Team said they love it when Michael visits each week, and they are glad he's shared the book.
Kate Miley, Nursing Assistant, said: "We've all really enjoyed getting to know Michael a bit more through his stories, and we feel honoured he's shared it with all of us."
Michael added: "Around two years ago, I gave the book to my family as a Christmas present. Then when I started coming to the hospice, I told people about the book I'd written.
"Initially, I kept it private but then people were really interested in reading it and they have said how much they enjoyed it when I shared it with them. I felt comfortable, after having made friends and gotten to know everyone more, to share my life with them."
Thank you for sharing your story with us Michael!
Find out more about our Day Hospice services at www.birminghamhospice.org.uk