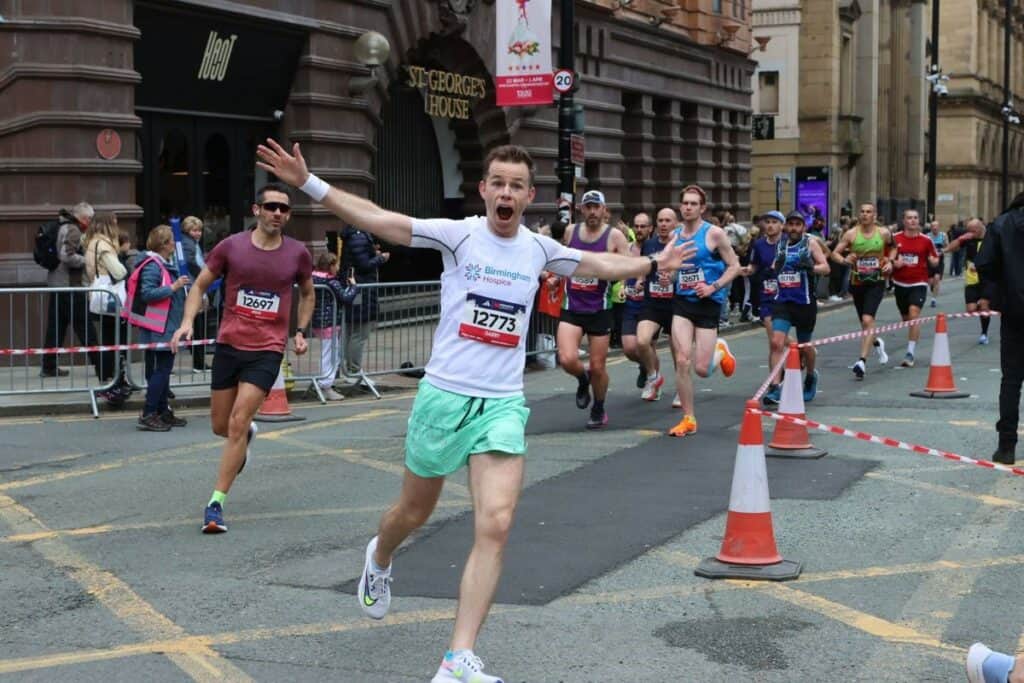 In honour of Father's Day, we'd like to share how Garry is supporting Birmingham Hospice in memory of his dad, Pat.  In April this year, Garry ran the Manchester Marathon and raised an incredible £4,867.85. He said through the tough 26.2 miles, he was motivated and inspired by his dad, who sadly passed away last October at our Erdington hospice after battling throat cancer.
Garry said: "Before Dad came into the hospice, he was at home in his flat and his health declined quite rapidly. It was a stressful time for the whole family, and we wanted him to be safe and comfortable.
"Alison from the community nurse team visited Dad at his home and took everything at his pace. She spent a lot of time with him and was so patient and kind – giving him so much understanding and support. She explained everything to Dad and put the emphasis on him having as much choice and control as he could. She made it easier for us as a family, and for Dad, her support was priceless. Having that single point of contact was wonderful.
"After one of his chats with Alison, he decided to come into the hospice, bringing with him some home comforts. It was there that he also developed a good relationship with one of the nursing staff, Tony.
"Tony also went above and beyond to care for Dad. The whole team were just incredible. We couldn't be more grateful for everything they did for Dad, and for taking the time to learn about him. Dad was cared for so well, and we managed to spend precious time with him, sharing memories and little jokes. Even though Dad wasn't in the hospice for very long, we all felt he couldn't have been in a more comfortable or peaceful place.
"Fundraising for the hospice was important for us as a family, as we want other families to have that same support during what can be a very stressful and heart-breaking time."
Garry received great support from his childrens' school, St Nicholas Primary School, and wanted to extend thanks to all the parents and teachers for their sponsorship, as well as his workplace, Laing O'Rourke, for their contribution to his marathon fundraising.
This Father's Day, Garry will be remembering his Dad with his Mum, Theresa, and his siblings Karen, Janice, Dearbhla and Alan – all raising a toast in tribute to a wonderful man, Pat.
We will be thinking of everyone who has lost their dad or father figure this Father's Day. We hope that the memories you hold close to your heart will bring comfort and a smile, as you recount the great times you shared.
To mark Father's Day, we've created a special platform where you can dedicate a chocolate in our Father's Day chocolate box to someone special. For a donation, you can choose a chocolate, upload a special message and a photo. Please visit: Birmingham Hospice Father's Day Choc Box | Visufund
If you'd like to start your own fundraising journey in memory of a loved one, please email fundraise@birminghamhospice.org.uk, or call 0121 7528779.