Karen Edwards recently signed up to be a volunteer for Birmingham Hospice, after supporting us for years previously with her Girlguiding group. Karen has attended events, collection stalls and is now a Collection Box Agent for our charity, helping us keep our collection boxes in the community up to date.
We caught up with Karen during Volunteers' Week, when she shared why she volunteers for Birmingham Hospice, and why she encourages you to do the same.
Tell us a bit about yourself.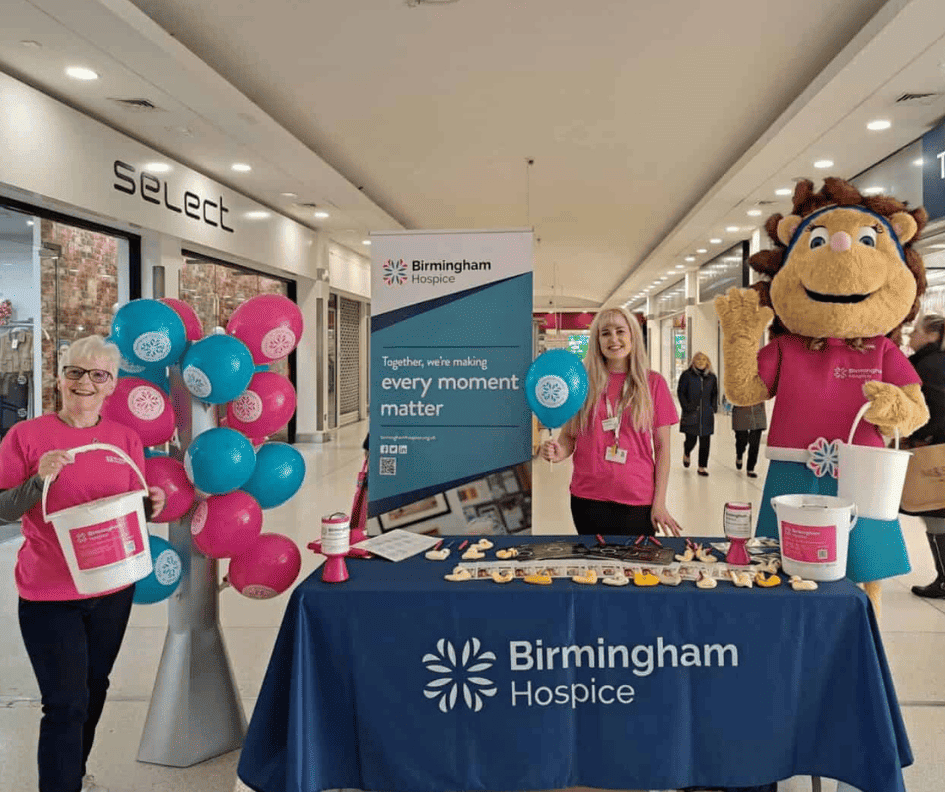 I'm Karen, I'm 63, and I recently retired from many years working in various administration roles. I was born in South Birmingham and despite enjoying lots of travelling and holidays, I've never strayed far from home for very long. I live with my partner Paul and we enjoy walking, being outdoors and we recently purchased a camper van and are enjoying exploring in it. I have been a member of Girlguiding Birmingham for over 40 years, many of those with Weoley Rangers. We meet quite close to the Selly Park site, and this is when I first started volunteering with Birmingham Hospice – back when it was Birmingham St Mary's.
What do you do as a volunteer for Birmingham Hospice?
I have volunteered informally with the hospice for many years, both with the Weoley Rangers and individually. We have participated in many of the events organised by the hospice including Danceathons, Jingle Bell Jog, Enchanted Walks and more. As a group, we also set up and organised our own events such as carol concerts, bake-athons and sponsored activities. Once I retired, I decided that I would personally like to support the hospice further and therefore signed up to become a regular volunteer.
I now have the role of Collection Box Agent and will also continue to sign up and support some of the organised events, including pop-up stalls and the Big Brum Bucket Collection.
What does your volunteering role entail?
The role of Collection Box Agent involves visiting lots of small independent organisations such as convenience stores, gyms and care homes which have agreed to have a hospice collection box, usually in their foyer or reception. When it's full of money, I visit to collect it and take out a new box. The role is very enjoyable and really flexible, and I can easily work it around my other commitments. I've met some lovely people and there is always time for a quick chat. There are other volunteers too, so the job is shared between us, and I can do as little or as much as I want, so it is not onerous on my time.
How did you hear about the role?
I initially saw on Facebook that Birmingham Hospice was looking for volunteers, so I went along and had a chat with the lovely staff at Selly Park. We chatted through what options were available and I was asked to take on the Collection Box Agent Role as well as offering to support them with other initiatives when time permits.
What's your favourite part?
My favourite part of being a volunteer at Birmingham Hospice is being part of such a supportive community. The staff and other volunteers are so friendly and welcoming. I feel like I am doing something worthwhile and the support I give is always valued and appreciated. I've met some lovely people and have had a lot of fun myself along the way too.
What would you say to anyone thinking of volunteering for Birmingham Hospice?
I would recommend volunteering with Birmingham Hospice to anyone. I'd say, "you won't regret it". There are so many opportunities to get involved in so many different ways, however big or small. What you do really makes a difference and is so beneficial to the hospice. You'll feel amazing having offered your support!