Jo was due to run the Shakespeare marathon in April 2020 but due to the pandemic the race was sadly cancelled. However this didn't stop her from taking on her own challenge and decided to do her own marathon to raise vital funds for Hospice care. Read how she got on with her challenge;
"I ran my first marathon after 18 months of training and 1,200 training miles on 30th May 2021. I was due to run the Shakespeare marathon in April 2020, but kept training after it was cancelled. Following a number of injury delays with my hip and calf, I finally ran my own marathon, following the Shakespare marathon route. I had friends run sections of the course with me and two other friends manning refreshment stations every 4 miles – I really couldn't have done it without them. My target was to complete the marathon in 5 hours and I completed it in 4hours 53minutes!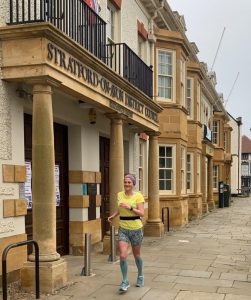 "I wanted to do the marathon in memory of my friend Kevin Milton who was cared for by the staff and volunteers at the Hospice. I managed to raise £1,078.40 through Just Giving, encouraging friends and family to donate. I had a really positive reaction to raising money for the Hospice, as it is well known in the West Midlands and people saw it as a worthy cause to donate to.
"If I had to give advice to anyone fundraising for the Hospice, I would say to use a training update as a reason to share your Just Giving page on social media. It keeps it interesting and people engaged with your fundraising. After long training runs, I would share them on social media, encouraging people to donate to my page!
"It was an amazing and slightly emotional day that I shall never forget, and the memories of exhaustion, pain, and heat of the midday sun have already started to fade with only happy memories remaining!"
A massive congratulations Jo on completing your first marathon! You should be so proud of yourself and your amazing achievement. Your fantastic fundraising could have paid for one person to receive round-the-clock expert care on our inpatient unit. From everyone at the hospice, a huge thank you.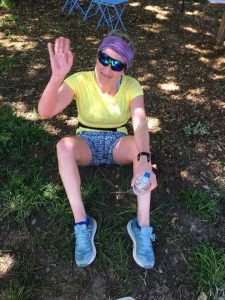 We really couldn't continue to provide our services free of charge to those who need us most, without incredible supporters like Jo. If you have been inspired to take on your own fundraising challenge, then our Community Fundraiser's are ready to support you in your fundraising journey.
Email fundraise@birminghamhospice.org.uk to find out more or complete this form on our website,  we look forward to hearing from you!