Every single volunteer in our charity makes a huge difference to every day hospice life. Whether that be helping with patients in our day hospices, marshalling at events or tidying up our gardens ready for summer, the smallest act can make the biggest difference.
One of these brilliant volunteers is Angela Richards, who has a personal connection to the charity after her mum was cared for by the teams at Birmingham St Mary's Hospice.
Since Christmas 2021, Angela has volunteered at every fundraising event the charity has held, and also helped out each week as a garden volunteer. This amazing dedication from Angela helps to continue our fantastic care and services by fundraising and maintaining the gardens for patients, visitors and staff.
Angela kindly shared her story: "In 2021, my mum was in the hospice for a few weeks and the care there is just phenomenal. I wanted to give back to them. I want to be able to somehow change people's perception of what a hospice is.
"Yes, ultimately they are there for people to be cared for in the end of their lives, but they are so much more than that.
"And the medical care is second to none. I wish I could tell everyone in the world about how amazing and fantastic the hospice is. Everything they do, the majority of it relies on donations, events and fundraising. So all I can do to support the charity, is volunteering.
"As soon as you walk through the doors, you know it is a fantastic place – I felt the love straight away."
Angela said she wanted to volunteer as a way of meeting new people who may have been through the same thing as her, who she could chat to.
She started as a garden volunteer to keep her mum's memory alive and her love of gardens.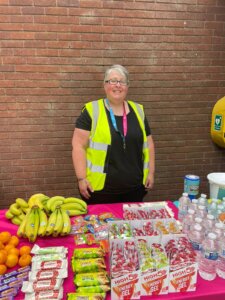 "I enjoy gardening at home and my mum was a massive fan of my garden," Angela explained. "She loved coming to visit and sitting outside. And when we stayed in the family centre during my mum's time in the hospice, I would often go out to the gardens to have a breath of fresh air for a few minutes and just calm myself down if things were tough. You don't realise sometimes how much that can help you. I want to make the gardens lovely for others as well.
"When I was working in the garden most recently, a patient came out and sat there for an hour or two just enjoying the sunshine and I thought maybe they didn't have a garden at home, so I'm glad they have one here, and I can contribute to its upkeep."
She said: "The hospice changed everything for me. Nothing will ever bring my mum back but I like to think she would be proud of me for my volunteering at the hospice.
"Volunteering is really rewarding and uplifting and it's so nice to be a part of something so special, like at The Hospice Charity Partnership."