It was a very special day today as a wedding for one of our lovely patients was organised by hospice teams in under 24 hours.
One of our brave and inspiring patients, Lynne, married her partner of three and a half years, Chris, at Birmingham St Mary's Hospice today.
It was a day full of sunshine, laughter and joy for the happy couple as they were joined by their loving friends and family, and some hospice staff members, to finally tie the knot – after previous wedding plans had been disrupted by COVID-19.

Lynne, who is a huge lover of everything Halloween, had a spooky themed wedding at the hospice on Thursday afternoon. Her hair and nails were done by our wonderful nurses, who wanted Lynne to feel extra special on her wedding day, and she had her dress dropped off by her family for the big day.
"It has been a bittersweet day, but really nice," Lynne said. "It could not have been more perfect.
"Everyone has gone completely above and beyond for us."
The couple, who met when they were both Cub Scout Leaders, were amazed by the effort hospice teams had gone to within just 24 hours to arrange their perfect wedding. This included our Social Care Team securing a wedding cake from Creations by Carla in Sutton Coldfield and flowers from Wylde Green Florist last minute on Wednesday evening.
Food and drink was organised by the Catering Teams, and the conservatory was decorated by the Inpatient Unit and Housekeeping Teams, who had also set up a gazebo in the gardens for the reception.
Chris said: "I can't believe what the staff have done here, it's amazing. For something that's been out of our control, it's been so lovely and great to have loved ones here.
"It's a stressful time organising everything, but the staff have sorted everything for us. We can't thank them enough it's incredible.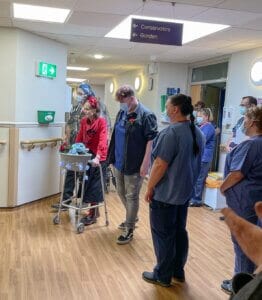 "I don't even have the right words to thank them, it wouldn't be enough."
Jan Hipkiss, Clinical Lead for our Social Care Hub, said they were thrilled with how the day turned out for Lynne and Chris.
"All staff who have supported and helped with the wedding in a short time period have been amazing and worked so hard to make it happen.
"Even the florists and bakers worked out-of-hours to make this work.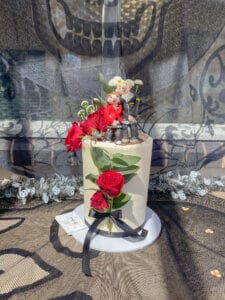 "For the teams, it's all part of the work we all do on a daily basis, but we feel honoured and privileged to do the jobs we all do, and so lucky to watch the joy this brings to people's lives."
Alison Breakwell, Lead Nurse at Birmingham St Mary's, added: "Today was all about fulfilling Lynne's wishes and creating happy memories for her during her time at the hospice.
"It was a real credit to all the teams who have pulled together to make today happen."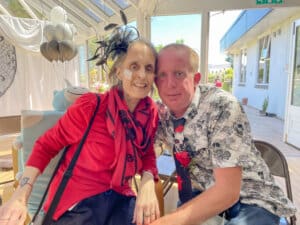 Thank you so much to Lynne and Chris who shared their story with us, and allowing us to be present on your special day!