Incredible Hospice supporter Paula and her challenge companion Emma have recently completed their incredible cycle route along the Hebridean Way, raising vital funds for our Raise the Roof campaign as they went.
They kept a daily blog throughout their 228mile challenge, read it below:
27/5/21
Our adventure has begun! Landed at a very empty Glasgow airport to bed down for the night before we fly to Barra in the south of the Outer Hebrides tomorrow to start our 200 mile cycle ride. I have lots of thanks to make, not least to my Mum n Dad who turned up at the airport as a lovely surprise to say goodbye, and arranged for an announcement about our charity cycle ride during the flight!!!!
Emma and I have been absolutely blown away by the generosity of everybody who has either donated money or equipment or clothing or advice or positivity. You won't realise what a difference it has made and how it has helped to spur me on with my insane 2 weeks of training.
ARRIVAL DAY
We have arrived! I can't imagine how it will get any better than today! We landed on the only beach airport in the world! Fortunately the tide was out! Videos of take off and landing for those of you who are interested.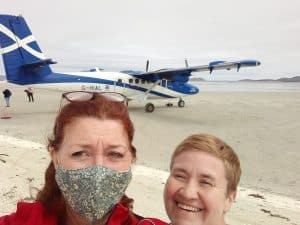 I haven't stopped grinning since we got here. Picked our bikes up at the airport and rode 7 miles to our first (and most luxurious lodgings of the week) Michelin star level Vegetarian haggis tatties and neeps for dinner which was gorgeous!
When I asked about Whiskey Galore, I was told I was standing in the Whiskey Galore bar and then noticed all the paraphernalia on the walls including one of the original bottles!
CYCLING DAY 1
It's always the last few miles that are the hardest and today was definitely that. We've ridden 38 miles today from our hotel to the start of the Hebridean Way to Lochboisdale where we're staying in Storm pods facing the loch. And the last 3 miles were HARD. I'm tired, my bum is sore and we were riding into the headwind. But we've survived our first day!!!
We arrived at the ferry 3 hours early. First time that's happened! But brummy Sharon Penny looked after us beautifully with coffee and delicious cake from her lovely cafe and chatting about mutual friends.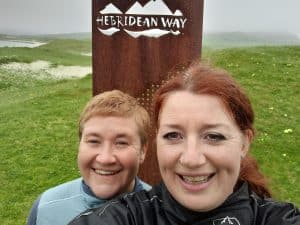 We had a flat tyre, but a good samaritan helped us change it AND donated to our collection for St Mary's Hospice!!!
We've seen sheep cows horses and seals and some lovely dogs.
And for the footie fans, check out the photo of the 8th most spectacular football pitch in the world as recognised by FIFA, set on the clifftop.
CYCLING DAY 2
Trying to decide what to write about today and I think I'll just leave it here: FIFTY FIVE MILES! Lochboisdale to Sollas over 3 causeways and four different islands. The dark ink-coloured lochs, beautiful white beaches and clear blue skies with little fluffy clouds have all helped the miles to tick by.
Too tired to write much else. Here's some videos and photos. It's been stunning!!!
Spoiler alert – I nearly lost my only debit and credit cards in the sea!
CYCLING DAY 3
Today the theme has definitely been wind! Not mine or Emma's fortunately! Having been obsessed with whether I had enough waterproof stuff, today I realised none of that matters if you have wind to contend with! We had a 10 mile ride to the ferry early this morning which should have been a doddle after yesterday but we were cycling into the wind for a lot of it. And that's really difficult! And slow! And tiring! But we managed to get to the ferry with time to spare. Phew!!
But the real challenge happened once we got to Harris. The landscape has been ever changing throughout these beautiful islands, but we suddenly had big hills (our first mountain?) to climb. Plus contending with the wind, sometimes coming from the side and nearly knocking us off, sometimes from lorries, displacing wind at us, it was more challenging than we were expecting for our 'easy 30 mile day'. But it's been a good 'warm up' for the next cycling day over the mountains of Harris!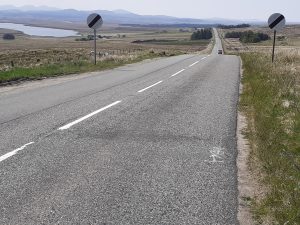 We've rocked up another 34 miles today and have climbed 1500 feet with full paniers in the heat of the sun with horrendous winds but we live to fight another day.
Fortunately the views were still so stunning it helped to drive us on. But we are so happy to have arrived at our Bunkhouse where we're staying for 2 nights! Which means REST DAY TOMORROW! Feels like we've earned it!
DAY OF REST
A much needed rest day today in the middle of our 200 mile (plus!) Hebridean Cycle ride for St Mary's Hospice. We slept in late. Took a walk. Saw some sheep! Did some yoga practice. Had some wine! 
The lovely owner of the Bunkhouse went to the shop for us again and came back with this bottle cos it's got bikes on it! Which is great as it's one of my favourites! Having some good home cooked food (by us, erm, Emma ) tonight then early to bed to prepare for Harris! And the dreaded mountain!!!! 
If you're missing my postnatal yoga class, I've put a little video on for you.
CYCLING DAY 4
I was told 'Fortune favours the brave' but I felt more stupid than brave on Day 2 of my training only 3 weeks ago when I couldn't ride to the top of Billesley Lane without stopping
So today I got my cycling top on and when I managed to ride over the mountain it felt incredible! We can do it!!!
And I felt fortunate for so many things, I began to think, maybe I was brave, not stupid.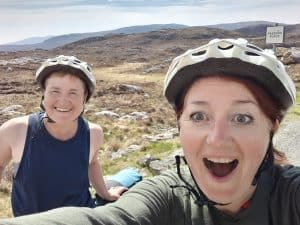 I felt fortunate for my family, who support me in everything I do, fortunate for my friends for being there when I need them, fortunate for the lovely women who trust me to guide them through their pregnancy and beyond, fortunate for my health that I could go from couch to mountain in 3 weeks, fortunate for the generous donations from everybody, fortunate for the advice and lends before I left, fortunate Emma had planned such an amazing trip, fortunate I could step in at the last minute, fortunate for the wonderful weather, amazing scenery and lovely people we've met.
Maybe the endorphins and mountain air have got to my head! But tonight I feel gratitude for so much!
Just for the record we did 45 miles and climbed 2,700 feet!!!!! Even after the mountain there were lots of hills. There have been LOTS of ups and downs. It's a good job I like roller coasters!
CYCLING DAY 5 – WE DID IT!!!!
We cycled 49 miles today to bring the total up to 228 miles from Vatersay, the most Southern island of the Outer Hebrides to the Butt of Lewis, covering 10 islands, via 6 causeways and 2 ferries, over challenging mountains and gruelling hills, between dark inky lochs and overlooking indigo seas with white sandy beaches. We've seen sheep cows Highland cattle otters dogs cats seals rabbits and such a huge variety of birds including our ever present Oyster Catchers and the cuckoo who's followed us on our travels. Well we kept hearing her! WE DID IT!!! It's been an incredible challenge and some days we've had to dig deep. But the weather has been wonderful and so far we've raised a whopping £3,400 + Giftaid for St Mary's Hospice, which has made it all seem so worthwhile, so thank you so much to everybody who has donated!
If you still want to donate or share, please click here as we'll be closing the justgiving page soon: https://www.justgiving.com/fundraising/emma-paice21