After 18 years at the helm of our Hospice, Tina Swani is stepping aside as we forge a stronger bond with our close neighbour, John Taylor Hospice. Over this time, Tina has seen so many changes and helped Birmingham St Mary's go from strength to strength. We couldn't let her go though without asking a few questions about her time at the Hospice… 
Do you remember your first day, what was your impression of the Hospice?
It was really striking that everyone without question had a desire to do more and do better for people. It was also small enough to know people individually with only 3 shops and less than 100 staff.
How has the Hospice changed?
We are a much larger organisation with a more contemporary, innovative and progressive approach that is responsive in today's multi-cultural and diverse city.  Whilst we have kept ahead of the times, the sense of family is still strong alongside high standards of professional practice, transparency and integrity.
The level of governance and compliance required today has become disproportionately high for the size of organisation we are and so the imminent and positive changes of shared leadership have come at a good time.
What are you most proud of from your time at the Hospice?
There are four things that really stand out about Birmingham St Mary's Hospice:
First, the courage, compassion and conviction of all leaders, staff and volunteers, which has been particularly emphasised during the CV-19 pandemic.  So many have overcome fear and been prepared to change working practices to provide rapid support to local people and their families at the end of life.  Everyone has a strongly shared focus on supporting our patients, families and communities.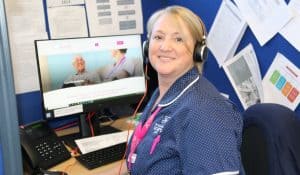 Second, the strength of collaboration that has been the result of leadership from across the whole area, although particularly from key staff at Birmingham St Mary's.  The amount of effort that has gone into this cannot be underestimated and has resulted in all the joined-up planning having fallen quickly into place in the pandemic.  This is very visible through the HoBS service (Hospice of Birmingham & Solihull: St Mary's, John Taylor and Marie Curie) and now joint leadership across Birmingham St Mary's and John Taylor Hospices.
Third, the pioneering work, quality and breadth of services offered that runs through Palliative Care, Education, Community Development, Bereavement, Volunteer support and Research.  There are extraordinary achievements across all of these areas.
And finally, the enthusiasm and drive of our income generators and marketing team whether fundraising, retail or education.  These efforts keep our supporters close even in times of crisis.
What's your favourite memory?
I truly loved the volunteering stint that I did recently on reception.  My life has been so full of deadlines that these events have not been as frequent as I would have liked so it was a real privilege to talk one-to-one with relatives and supporters both face to face and on the phone as a member of the reception team rather than as CEO.  The Chocolate 5k is a close second!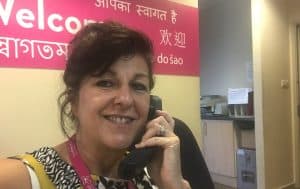 What's your funniest memory?
My wedding party celebrations with the Executive Team just over three years ago.  Enough said!  Other than that, the sight of a donkey on the Inpatient Unit.  Not sure that would happen now.
What will you miss?
All of you!  Nothing can measure up to the Birmingham St Mary's Team.  I will also miss the very close colleagues and friends I have made through my hospice role across other organisations including Executives and Trustees on the Board of Hospice UK.
Is there anything you'd like to say to your colleagues at the Hospice?
Well done for all you do.  Do look forward and enjoy the collaboration with John Taylor Hospice colleagues.  The shared leadership through a joint CEO and joint Chair creates a groundbreaking opportunity to take palliative and end of life care to a whole new level across the city and Sandwell.  It sets an example for other hospices to follow.  The pandemic has raised the profile and importance of palliative care across all sectors.  We now have the opportunity for a stronger voice in the city and to be recognised fully as an essential specialism.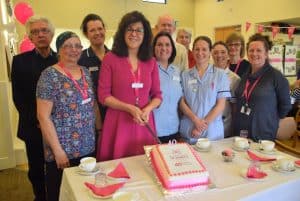 Is there anything you'd like to say to our supporters?
Our supporters are a lifeline for the Hospice.  They keep our profile high, encourage us, and donate vital sums of money to us.  Entertainers and art therapists have also given time to our patients in the Day Hospice.  Our volunteers and Trustees also give their valuable time and expertise.  Gratitude does not do it.  They are a monumental support and needed more than ever before.  Thank you to everyone who has supported Birmingham St Mary's Hospice over the years, it is very humbling and means a lot to have your support going into the future.
Thank you so much Tina for everything you've achieved with Birmingham St Mary's. We truly wish you all the best for the future and know that this isn't goodbye.
To help us continue the important path that Tina has set us on, please make a donation or take on a virtual challenge here. Whatever you choose to do, you will be helping someone across Birmingham and Sandwell to receive the support they desperately need during these uncertain times.