The Children's Healing and Therapeutic Support (CHATS) Team offers free confidential, emotional support to children and young people when a loved one is living with a life-limiting illness or they have sadly died. This includes one-to-one support as well as group sessions.
The team consists of our Children's Therapeutic Practitioners, Sally, Sam, Karen and Mo, who all have lots of experience in supporting children through difficult times, and are passionate about helping children on their journey of grief.
One of the key areas that the team supports children and young people with is memory work, which encourages them to make meaningful memories with their loved one before their death.
As part of this, the CHATS Team offers 3D casts to families of the patient's hand. This then creates a lasting piece of artwork for the family to cherish.
Speaking about the casting work, Sally said: "When we take the mould of the hands we always use the opportunity of having the child and patient together, as they have to hold their hands together in a bucket for around five minutes.
"We use this time to encourage them to tell each other what they love most about each other.
"This is always a beautiful moment where we often hear very intimate conversations, the hope is that we are giving this child a very tangible gift of still being able to hold their loved ones hand after their death, but also creating a special memory at what can often be a real difficult time.
"Where we don't have the opportunity to facilitate the cast before the person has died, perhaps a sudden deterioration or the patient is perhaps too poorly to engage in the activity, we do offer bereavement casting where myself and Sam will visit the funeral directors to take a mould of the hand.
"Therefore a child still has the chance to hold onto their parents hand when they are no longer around."
The CHATS Team currently have 34 hand casts that they are working on.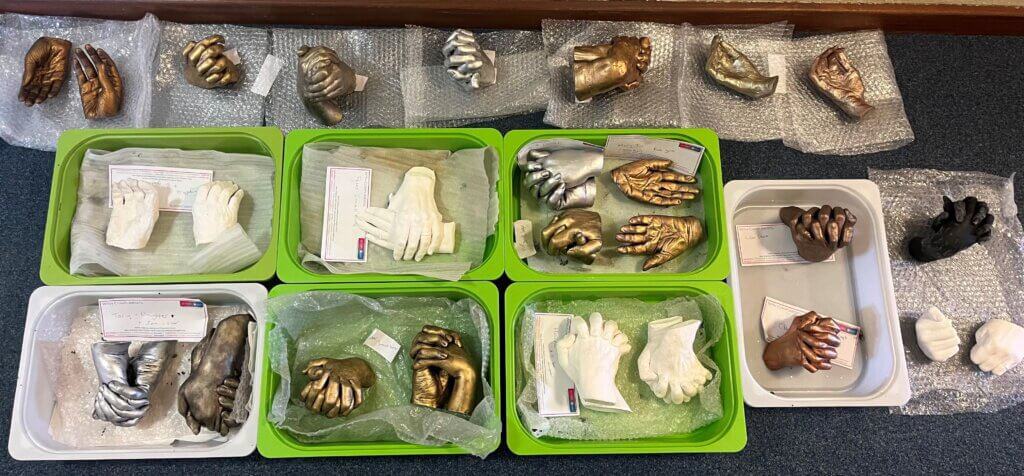 Sally added: "We understand this is a sad read, but one we believe is very important for people to hear about.
"Memory making when someone is alive is a great way of both processing what's happening, but also helps people learn and understand each other better.
"When someone we love dies, we know memories can initially feel painful, but to grieve in a healthy manner means to be able to reconnect with your loved one, and make some peace with their journey.
"Sharing memories and talking about grief can really help with this, so at CHATS we strongly encourage people to at very least consider the importance of memory making."