Birmingham St Mary's Hospice cared for and supported my Mum, throughout the last 8 months of her life. They provided her with respite care as an inpatient, she attended their Day Hospice, we had a family support worker, a community liaison nurse and, after Mum died, I received bereavement counselling.
They cared so lovingly for Mum, she felt safe there and they got to know her so well. They did everything they could to make all her stays with them comfortable and welcoming. Every single member of staff genuinely cares for each patient and their families – they are very special people.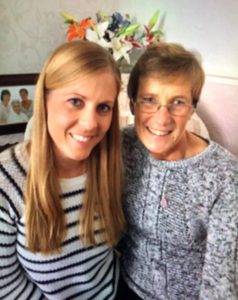 Mum's 3rd anniversary was 14 May and due to the current situation with coronavirus, I knew I wouldn't be able to mark the occasion as I would like to. Therefore, I decided I needed a focus and wanted to turn the day into a positive.
My daughter, Eva and her Granny had a very special relationship despite Eva being so young when she died. I talked to Eva about doing something nice on the day and we decided together that as we both enjoyed baking (and eating!) Rocky Road, we'd ask around our neighbours and see who would be interested in buying a slice for £1 'donation' to the Hospice. We live on a fab street where there is a real sense of community so I knew we'd sell a few slices and thought maybe raise around £25 which would be lovely and having Eva so involved, it would be a great experience for her. In the end, we were delighted to have an order of 94 slices!
People were extremely generous and donated more than the £1 a slice in some cases which was so kind. We had great fun baking and got through several hundred grams of sugar and chocolate!! We ordered some little bags and parcelled up everyone's order ready for delivery.
On the day, it was so lovely to be able to go out as a family and deliver the goodie bags to our neighbours and to thank them for their generosity. It made the day special and I know Mum would approve – she loved a sweet treat! Everyone really enjoyed their Rocky Road and we received lots of messages of thanks.
Our final fundraising total was £220 which was more than we had imagined. It was a pleasure to do the bake with Eva in memory of my Mum and her special Granny.
Birmingham St Mary's Hospice will always have a special place in my heart.