A lifelong Birmingham City fan who is currently being cared for by the hospice got to enjoy the VIP treatment at a recent home game.
Phil Thomas used to be a regular attender at St Andrews, so our Personal Health Budget (PHB) Team got in touch with the club to ask if they could help provide a memorable experience for Phil to enjoy.
The club invited him to enjoy the match against Rotherham United on 11 March in style, watching from the Legends Lounge alongside wife Kelly, with matchday catering laid on.
Even better, Phil got to see the Blues run out 2-0 winners, with goals from Reda Khandra and Kevin Long.
Phil said: "We had a fantastic time – it was a wonderful experience, and we were thoroughly looked after. It was a great way for me and Kelly to spend some quality time together."
He is also a fan of Manchester United and Celtic FC, and both of those clubs also made generous gifts of signed memorabilia from the Reds, and matchday programmes from Celtic's European matches this season. On top of that, he has an interest in steam trains, so we got in touch with the STEAM Museum in Swindon, who sent Phil some books.
The PHB Team has also made a cast of Phil's hand, creating a lasting memory for his family to cherish.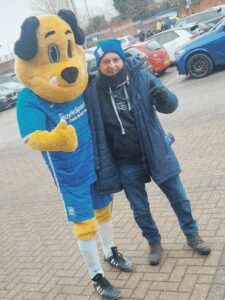 The team provides services for patients receiving end of life care, providing personalised care which meets their needs. This could mean providing anything from bedding, clothing, and helping with cleaning or dog walking, to creating precious memories, experiences and fulfilling wishes for patients and their families. The team won a prestigious Nursing Times Awards in October 2022 for this innovative way of supporting patient needs.