For Cat, who has early-onset dementia, the chance to be creative, open and emotional during Art Therapy sessions helped her develop coping mechanisms to deal with her loss of abilities and fear of change.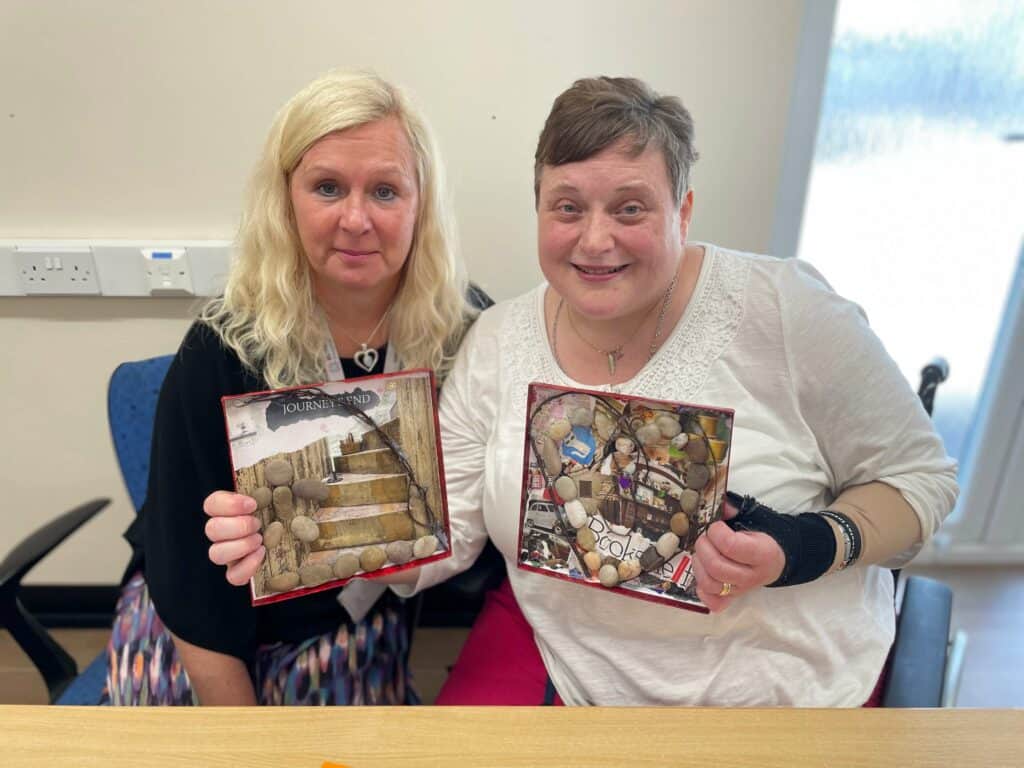 Having tried different forms of therapy and counselling previously, Cat found them stressful as she struggles to form words and often forgets things due to her dementia diagnosis.
By starting Art Therapy sessions at Birmingham Hospice, Cat was able to express her anxiety around loss and change through creative methods. This is something Caron, our Art Psychotherapist, says has helped Cat massively.
"Even when I came away from the very first session, I was able to process my emotions; not just during the session but at home," Cat explained. "I don't deal with change very well. To me, change is loss.
"I need familiarity. The fact I know I can deal with change better now means I am not so scared of it; I'm able to accept it. This has made such a difference to my life."
Cat also has breast cancer and PoTS, a condition which causes an abnormal increase in your heart rate after sitting up or standing up leading to fainting or dizziness.
Having to deal with multiple diagnoses and a loss in ability meant Cat felt anxious and depressed.
In her Art Therapy sessions, she created a memory box with layers of photos cut from magazines which triggered memories for her. Under the layers, Cat wrote the names of people she has lost, so that if she ever forgets, she knows they are written down somewhere.
Cat said creating the box felt like closure and an acceptance of her situation.
"I feel more positive and realise that loss is not just death, it's things that change in life and it's ok if that affects me," she said.
"It's made me realise more than anything that my memories work on my emotions and if something is emotionally triggering then it will draw on my memories better.
"The therapy helped me deal with different diagnoses I have had and my loss of ability, like being able to read a book which I loved and my driving licence.
"Every single time I came here for Art Therapy I didn't feel stressed. I used to feel scared about other types of counselling I've had in the past.
"When I came out of the sessions, I felt strong enough to take what I've learned away. It brings out a different side to you."
Caron, our Art Psychotherapist, said Art Therapy can be helpful for people who struggle with words and instead prefer to express their emotions in other ways.
"It's about trusting the process and following your inner guidance to express yourself in a way that's right for you," Caron said. "It can be an empowering experience – all it takes is a pen and paper.
"This can be helpful when you have dementia, and you begin to lose touch with who you are, Art Therapy can help you to retain your mental capacity for longer.
"I think when Cat was creating her collage, which evoked lots of strong emotions that helped her to connect to important memories, allowing her to be in touch with her 'familiar self' again."
Cat added: "Caron is so easy to connect with, I think anyone would feel comfortable with her.
"I really think Art Therapy could make a difference to everyone, not just those who are arty or crafty."