This #HospiceCareWeek we take a closer look at our Community Development Team.
Suzanne McArthur, Head of Community Development and Partnerships, and Upjeet Sidhu, Community Development and Inclusion Officer, are constantly meeting new people and forming new relationships across Birmingham and its communities.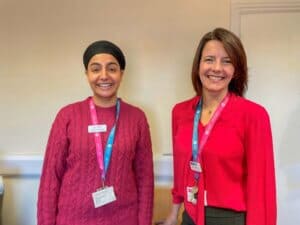 The theme for this year's Hospice Care Week is about opening up hospice care for all. Suzanne and Upjeet focus on this during their day-to-day roles, opening up conversations around death, dying and hospice care with many different communities.
Here's what they got up to last week:
Monday
Meeting with Guru Nanak Gurdwara, Smethwick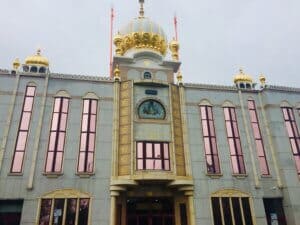 Suzanne and Upjeet met with Sukhninder Samra who is the Team Co-Ordinator at Guru Nanak Gurdwara, Smethwick.
We learned about all the different activities that take place at the Gurdwara such as Sister Support Sessions, weekly health check-ups, ESOL classes and so much more.
It was great to see and explore all the potential ways The Hospice Charity Partnership can work with the Gurdwara to raise awareness of hospice services; to encourage conversations around what good end of life care looks like for individuals and to really learn about the existing community assets that we can further help develop.
This would ensure the Gurdwara can optimise the support it offers to people in the local community who are approaching end of life or dealing with loss and grief.
Tuesday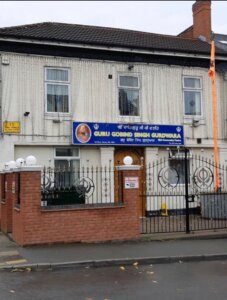 Meeting at Guru Gobind Singh Ji Gurdwara, Balsall Heath
Suzanne and Upjeet met with the ladies group which meets every Wednesday to pray together.
It was lovely to be a part of it and hear some personal stories over a cup of tea.
It was interesting to hear some myths held about hospice care, which included a belief that the hospice provided support for only people living with cancer; that it was a hospital and/or somewhere people go to die.
It was heart-warming to hear how keen the ladies were to carry on raising funds for the hospice and support in any way they can (they recently provided some delicious samosas at the recent Party in the Park event).
We are looking forward to seeing how we can build our relationship with this group to help raise awareness of what a hospice is, the services it offers and how we can work with the local community to enable them to support those who are approaching end of life.
Wednesday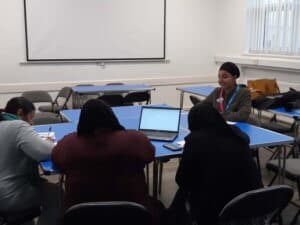 Delivering Bereavement Awareness Training at Small Heath Community Forum
Suzanne and Upjeet delivered training to help Small Heath Community Forum to set up their own Bereavement Hub for their community.
It was great to share experiences of loss and remember we all have the capacity to get through difficult times and that we all have the skills/ability to offer compassion to bereaved individuals.
Thursday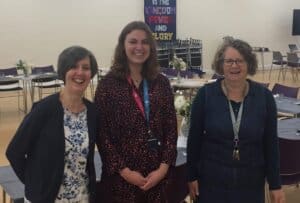 Meeting at the Christ Church, Selly Park
Suzanne visited the Christ Church at Selly Park with Beth, one of the hospice's senior counsellors.
The pastoral team at the church are developing a bereavement support group and are keen to work in collaboration with The Hospice Charity Partnership to develop a bereavement hub for their local community. Training is due to take place this November.