Blog post written in partnership with Neo Cremations. 
At Neo we work closely with hospices to help families during bereavement and who are struggling to pay for a funeral. The reality is, hospice workers, volunteers, and nurses are currently at the forefront battling against the pandemic. Their work is so integral to so many families throughout the UK. To learn more about them and what they do, we were eager to sit down with some of the staff at Birmingham St Mary's Hospice to hear about what a day in the life looks like for them. We start off this blog with Helen Rawnsley, she is the Partnerships Manager at the hospice, and then we take a look at what a day looks like with Emily from the Palliative Care Social Work Team. 

What does hospice care mean to you? 
Since moving to Birmingham to study in 2013, I have always admired Birmingham St Mary's Hospice's work in the local community and their campaigning to break down taboos around talking about death and dying. So, when I started working at the Hospice, I was passionate about utilising my role within the charity to share the importance of end-of-life care with the business community.
I have learned so much in my eight months at the Hospice- both in terms of what Hospice care actually is, but also the many different ways that businesses and individuals can support our vital work. 
One of the biggest things that I think makes good end-of-life care so important is how personal choice is truly the centre of our ethos at Birmingham St Mary's Hospice. The first question any of our patients and their families will be asked when they meet our team is 'What is important to you?' Personal choice for patients and loved ones across all of our services is the key to good end of life care, and decisions are made by the individual in collaboration with the team. Hospice care incorporates a truly multidisciplinary approach to ensure that a patient's physical, mental, emotional and spiritual needs are met.  At a time when so many things feel out of our control, our Hospice Heroes have not wavered from putting the needs of our patients first. There is no ask too big and definitely no such thing as a silly question, and at a time of so much uncertainty, this question is key to the delivery of a patient-centric care pathway.
At Birmingham St Mary's Hospice, our mission is to provide 'Hospice Care for All'. Our amazing teams support over 500 patients living with a life-limiting illness every day across Birmingham and Sandwell- this couldn't happen if all of the care was in our Hospice building! Most of our care actually takes place in people's homes. For many people, home is where the heart is, and is just where they want to be, surrounded by their loved ones and having a cup of tea in their favourite chair, and our Hospice at Home team make this possible.  We are expanding our services further out into the community by educating other health and social care professionals in providing good end of life care, to help us get closer to this mission. Over the last few months, the team have trained GP's, nurses, care home staff, teachers, medical students and hostel staff as part of our homelessness project. This work is collectively helping to raise the standard of end-of-life care across Birmingham and also set the standard nationally as well.  
What does a day in the life look like for a Partnerships Manager? 
My role as Partnerships Manager involves working with businesses and individuals who want to make a transformational impact to our services through strategic partnerships. Partnerships transform our care and transform your business. Together, we can create real, lasting change whilst unlocking shared value and impact, much like our partnership with Neo! Our partnership with them will consist of a series of co-written blogs (just like this one) and a handful of webinars touching on funeral affordability and sustainable funeral planning. 
The day to day work of my role involves making sure that all of our corporate partners can join us in making our mission a reality, by bringing about change across the whole system of healthcare, so that more people have a better experience at the end of life. It's a two-way partnership though, and some of the things we make sure we offer businesses include:
Providing great publicity, PR and marketing opportunities that can contribute to positive brand image, reputation and increase sales.

Helping provide evidence of CSR activity in the local community that can support tender applications and contracts.

Exclusive networking opportunities and introductions to other corporate partners.

Knowing that they are making an incredible difference to a local organisation during these uncertain times, which can raise motivation and morale!

Offering bereavement training courses for HR teams and senior leaders, to open up conversations around how to best support carers, employees who have been diagnosed with a life-limiting illness and those who have been bereaved (more to come on this in 2021!)
Partnering with us is so much more than just fundraising or volunteering. It is giving colleagues the opportunity to ask questions, to give each other permission to talk about death and dying and create a culture of compassion within organisations like Neo. My job is to help get the conversation started.
In her book, 'Dear Life', Rachel Clarke describes how 'In a Hospice there is more of what matters in life- more love, more strength, more kindness, more joy, more tenderness, more grace, more compassion- than you could ever imagine'. This could not be a more accurate description for Birmingham St Mary's Hospice, and thanks to the generosity of our supporters, we can bring more love, strength, kindness, joy, tenderness, grace and compassion to everyone who needs us. However, just 36% of our funding comes from the NHS, the rest is raised purely through charity donations and with lockdown restrictions and social distancing limiting our fundraising activities, we need the support of businesses more than ever.
What does hospice care mean to you? 
As a Palliative Care Social Worker, I support patients, their family members, loved ones and carers with any concerns or worries they may have – whether that's emotionally or practically.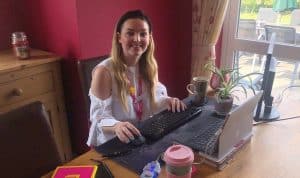 Living with a life-limiting illness can be emotionally tough, so I help people come to terms with what's happening to them and try and support them to live as well as they possibly can. This could involve talking therapy (a therapy which gives people the chance to talk openly about their feelings and helps turn negative thoughts into positive ones), writing letters, making memory boxes for loved ones, or simply offering a listening ear.
Practical things can include helping with applications for housing adaptations, equipment or blue badges. It could also include legal matters, such as helping someone to make a will, appealing actions taken by debt companies and much more.
I also help organise 'special days out' for patients and their loved ones. This usually involves trying to source funding for holidays and short breaks; helping families to create special life-long memories. I love my job as I help support people to live their lives as fully as possible despite any limitations they may be facing.
How has your role changed during this difficult time?
Unfortunately, we've stopped making home visits during this time to help reduce the risk of spreading coronavirus. This has been really challenging, especially when it comes to people who are using our service for the first time or for those patients who don't have access to a computer/smartphone to fill out application forms. But it's vital we do this, to help protect patients and our staff.
Despite these challenges though, we're doing everything we can to continue to help people. We're speaking to patients regularly on the phone or for some, catching up digitally via video calls or Whatsapp – whatever works best for them.
Coronavirus is causing a lot of anxiety for patients, so it's important that they know that we're still here for them no matter what. I think a lot of our patients have taken comfort in knowing they can pick up the phone and speak to us should they need to.
How is your role making a difference to people right now?
I think we're giving a lot of reassurance to people, letting them know that despite having to physically distance, we are still here and offering social support.
Many of the people we care for will have been told to self-isolate, which is causing a lot of anxiety. So we're here to offer them advice and find solutions, for example, signposting them to services which are offering shopping or medication deliveries. We're also seeing some patients experience increased financial hardship, so we're helping them by advocating for debt/loan holidays, welfare grants, emergency necessity packages and more.
Why is hospice care so important? 
It helps people to live the best life they possibly can whilst managing their palliative condition. Not only do we support a patient's physical symptoms, but we're here to offer emotional, practical and spiritual support too. We can also be here to support that person's whole network, whether that be family members, loved ones and/or carers.
Hospice care doesn't discriminate and supports adults of all ages, faiths, ethnicities, sexual orientation and life-limiting conditions.
The staff and volunteers I work alongside really do go above and beyond and I'm proud to be part of such a wonderful team.
Our continued support for Birmingham St Mary's Hospice 
We at Neo believe that these essential workers are the unsung heroes of our time, and this is why we undoubtedly support Birmingham St Mary's Hospice and all that they do!