Helen is part of our fundraising team and works on creating strategic partnerships with businesses and individuals that have a transformational impact on our Hospice care…
Since moving to Birmingham to study in 2013, I have always admired Birmingham St Mary's Hospice's work in the local community and their campaigning to break down taboos around talking about death and dying. So, I was really excited to be starting a new role as the charity's Partnerships Manager in April and get stuck in!
I doubt I am the only one who might not know the full picture about just what is involved in hospice care (and I know I still have much to learn!), so I thought it might be helpful to share five things I didn't know about hospice care at the end of my first three months at Birmingham St Mary's.
1. Hospice care is more than nursing care, and personal choice is central to its ethos
Hospice care incorporates a truly multidisciplinary approach to ensure that a patient's physical, mental, emotional and spiritual needs are met. There are so many amazing teams involved including medical directors, nursing staff, social workers, counsellors, occupational therapists, and chaplains to name a few! Not forgetting, of course, the fundraising team who work with individuals, businesses, community groups and more to make sure all of our services are funded! All of these teams work together, in collaboration with the patient and their loved ones, to make sure the patient's wishes are put first.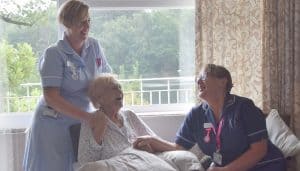 2. Hospice care happens outside of our Selly Oak building
Our amazing teams support over 500 patients living with a life-limiting illness every day across Birmingham and Sandwell- this couldn't happen if all of the care was in our Hospice building! Birmingham St Mary's Hospice has satellite clinics in four GP surgeries across the city, helping us reach more patients in different communities, and also give them more of a choice as to where they receive their care, making life easier for everyone! Most of our care actually takes place in people's homes. For many people, home is where the heart is, and is just where they want to be, surrounded by their loved ones and in their favourite chair, as they receive end-of-life care. Our Community Nurse Specialists and Hospice at Home team help patients and their loved ones receive their end-of-life care at home, if that is their wish.
3. Hospices are involved in education and research
One of the key things that made me want to work for Birmingham St Mary's Hospice was their mission; Hospice Care for All. This is ambitious but it's been amazing to see how much the possibilities open when you consider education! The Education team empower health and social care professionals to deliver end-of-life care within their own organisations, thereby, cascading the effort towards achieving this mission! Amazing! A highlight of the last few months has been attending a webinar for HR Professionals from one of our amazing bereavement counsellors about how to support employees through bereavement in the workplace- something that many businesses are sadly having to consider as we come through the COVID-19 pandemic.
4. Hospice care is not just for cancer patients
This is a really common misconception about hospice care, and I have to confess that I had never really considered just how many conditions a hospice will help patients to manage. Having said that, with such a multi-disciplinary team, it seems obvious! With an ageing population, more people are managing multiple complex conditions as they approach the end of life, and a hospice helps to manage any pain or discomfort associated with them.
5. Hospice care is all free
Again, I had never really thought about this before, but, again, in order for hospice care to be available for all, it must be accessible to all. All of our care is free, including our family and carer support and bereavement services. This is so important as it means that the amazing teams can work with families through their whole journey, right from diagnosis through to support after death, meaning no one gets left behind. What I didn't know, is that just 36% of the funding for Birmingham St Mary's is from the NHS. The difference is raised through the generosity of charitable donations. As Partnerships Manager, my job is to give business leaders and individuals the opportunity to create a transformational partnership, based on the alignment of our values to make a tangible and long-term difference to the future of Hospice care in Birmingham.
So, there we go! Those are five things that I didn't know about Birmingham St Mary's Hospice- I hope you learned something too!
To find out more about how your organisation can support the work of the Hospice and be a part of something important, you can contact Helen on helen.rawnsley@birminghamhospice.org.uk.