Ride the Reservoir
Ride the Reservoir will return to Newman University on Sunday 28 April 2024.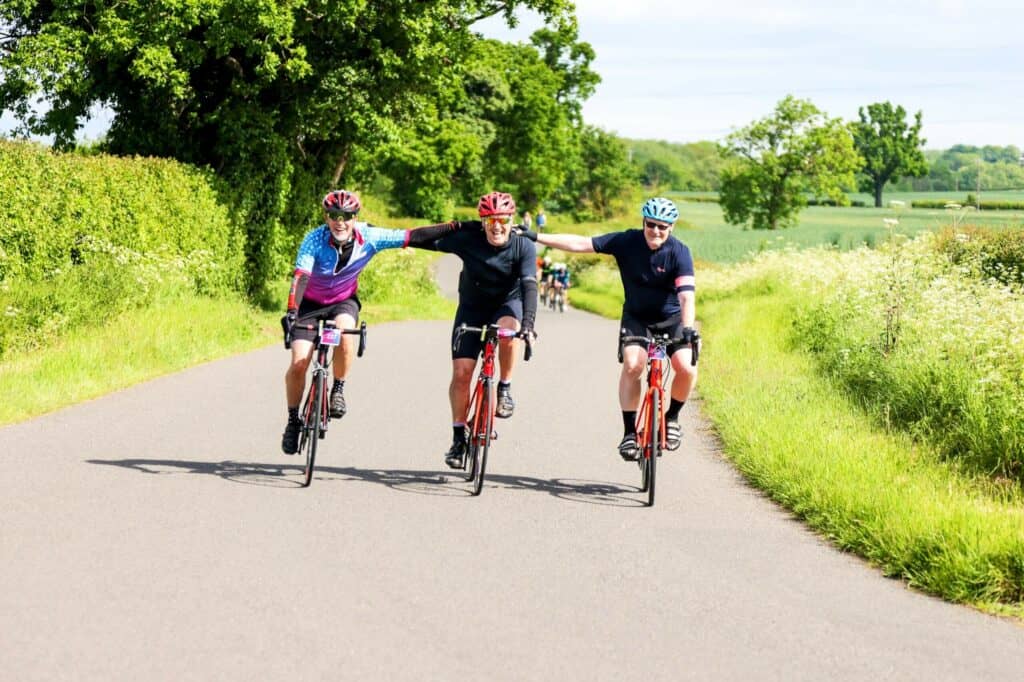 Ride one of our four routes to support local people in Birmingham and Sandwell living with terminal diagnosis, and their families 🚲
Birmingham Hospice is bringing back the much-loved scenic routes of Ride the Reservoir and adding a brand new one! So, whether you're new to cycling, a seasoned pro or somewhere in between, there's a route to suit everyone this year!
Route options
Our 25km route is a beginner-friendly route. Setting off from Newman University, cyclists will take in some of the forgotten scenic pathways of Birmingham, including the popular River Rea cycle route, Cannon Hill Park and Woodgate Valley Country Park. The route involves a small amount of on road cycling, with the majority located on canals, cycle paths and trails. Suitable for those new to cycling and children or teenagers who have experience of riding on cycle paths and are confident on roads and in moderate traffic.
Our original 75km route is perfect for keen cyclists. Starting from Newman University, cyclists will venture into the Worcestershire countryside, passing through scenic villages such as Romsley, Belbroughton, Chaddesley Corbett, Dodford and Barnt Green. Featuring challenging climbs throughout, including the well-known Romsley Hill, this popular route grows in popularity year on year.
The pro route is an extended version of our ever popular 75km route. At Barnt Green, cyclists will leave the intermediate route, travelling through Tutnall, Beoley and Alvechurch before re-joining the intermediate route towards the Lickey Hills and onwards to the finish line at Newman University.
We are excited to announce our brand new 100 mile route which will be incorporated into our 100km route, taking you off on another loop to get in an additional 38 miles! Can you take on the challenge?
Ticket prices
Book from 1 November 2023 – 29 February 2024
25km child cyclist: £12
25km adult cyclist: £17
75km cyclist: £27
100km cyclist: £32
100 mile cyclist £34
Book from 1 March 2024
25km child cyclist: £15
25km adult cyclist: £20
75km cyclist: £30
100km cyclist: £35
100 mile cyclist £38
FAQs
Due to unforeseen circumstances, routes are subject to change right up until the event. However routes will be shared with all participants as soon as possible. Should you want sight of these early, please email: events@birminghamhospice.org.uk
All of the routes are open to everyone. However, we would recommend all cyclists are over the age of 12. Anyone aged under 18 must ride with a responsible registered adult.
Parking is available at Newman University.
You must wear a helmet to protect yourself against injuries in the event of an accident. Wearing bright, reflective clothing will make you more visible to other road users. April weather is unpredictable, so please dress appropriately for the weather. We can't wait to see everyone wearing their Birmingham Hospice jerseys!
Unless the safety of our participants and volunteers is at risk, we will not cancel the event. If the event is cancelled, you will be notified. Our Events Team will be monitoring the weather forecast in the run up to the event, but please also make yourself aware of weather conditions on the day and prepare accordingly.
When registering under 18s, you are asked to name a responsible adult aged 18 or over who is riding with them for the duration of the event.
Please ensure you save the Events Team mobile number in your phone. This way you will be able to contact the events team at any point during the day: 07970 040863
For serious accidents, do not hesitate to ring 999 and then ring the Events Team to let us know.
For minor injuries, please ring the Events Team for assistance or to let us know you have been picked up and will not be completing the ride, quoting your rider number.
If you witness an incident, please stop and call the Events Team on the above mobile number.
If you cannot complete the ride for any reason and make your own way home, please inform our Events Team, quoting your rider number.
All routes use public roads and are not closed off to other vehicles for the event. Please be considerate to other road users, signal clearly, use cycle lanes where necessary, and abide by the Highway Code.
Marshals are for visible presence only – they cannot stop traffic for you.
We recommend that all riders have both bike and personal liability insurances as we cannot be held responsible for damage, loss or theft of your bike or personal items or personal liability.
Refreshment stops will be included on the 75km, 100km and 100mile route. Information of their locations will be updated as soon as possible, and this information will be shared with all riders.
There will be plenty of opportunities to top up your water or grab a snac,k but please do ensure you have enough refreshments on you throughout the ride.
Technical support will be available, but please make sure you have cash on you or can do a bank transfer should you need to purchase parts from the support team. We recommend you having a bike service prior to taking on the event to ensure your bike is in full working condition.
There will be a new Birmingham Hospice jersey available in 2024. Images to come soon!
You can purchase one of these while registering, emailing the Events Team or on the day itself.
You can also pledge to raise £100 and receive a jersey in return for free!
Set up your JustGiving page now!
Your fundraising pack will be sent to you as soon as possible but if you would like a paper sponsorship form now, please get in touch!
Unless you have pledged to raise a minimum of £100 in return for a free jersey, there is no minimum sponsorship target for this event. However, every penny you raise will help us continue our work throughout Birmingham and Sandwell.