Our new Harborne superstore is opening next week and it is set to take charity retailing to the next level, according to General Manager Ed Blackwell.
Ed comes to us following an extensive career in retail, starting out with Beatties department store before moving into the charity sector with PDSA and Cats Protection, and then working as an area manager for another hospice charity.
He said he was attracted by our exciting plans for the Harborne store, including a community space and café, DJ sets, graffiti wall, and an in-house upcycling and alteration service.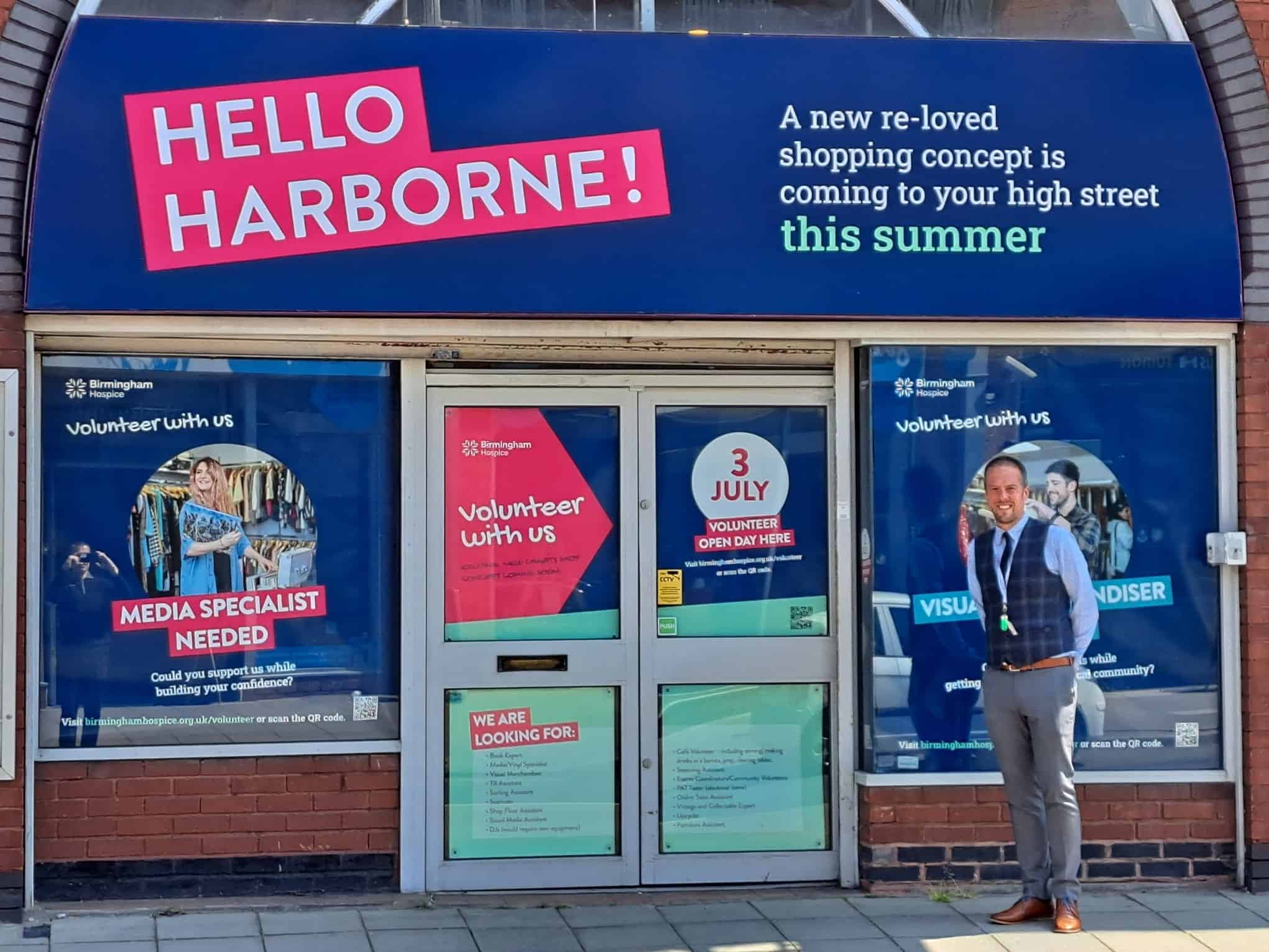 He said: "This opportunity came up and I couldn't let it pass me by. I was working as an area manager and did miss the daily interaction with people that you get in a store. This was the best of both worlds, being right in the middle of things but still managing a large team.
"The plans here are amazing – the level of community involvement is definitely over and above what you'd normally get from a charity shop, and it's so important that we complement the high street and involve as many people from different backgrounds as possible, which is something I'm very passionate about.
"It's a very bold and brave move, and it's great to see the level of ambition here. It's really taking things to the next level – I think it will turn quite a few heads and we'll see other charities look at the concept and follow our lead.
"The new Birmingham Hospice brand is very powerful with great potential to build on in future. It's an exciting time and I want to be part of that growth and development."
The Harborne store is aiming to recruit up to 70 volunteers to help fulfil its ambitious plans, with roles as diverse as book and vinyl experts, social media experts, a seamster and a DJ. Having worked in charity shops for a number of years, Ed said he had already seen the sector come a long way, and this store was set to be an even more attractive environment for both shoppers and volunteers.
He said: "The standards generally and the stigma around charity shops has definitely shifted and it's much more acceptable now to shop in one. I think there's still a way to go, and that's why it's really important that we raise the bar in this way to reach out to those potential customers who perhaps wouldn't consider using a charity shop at the moment.
"We're attracting a wide range of people enquiring about volunteering, with different skills to what we'd normally get. Sometimes shops aren't as attractive as they could be for volunteers, but this will be a really nice working environment, and we're already seeing a lot of potential volunteers getting in touch because of how exciting the shop looks just from the outside."
To find out more about volunteering at the store, visit www.birminghamhospice.org.uk or check out the store's Instagram page at @BrumsHospiceHarborne.