"The shop's foundation is its volunteers. You can't do it without them."
Our Heeley Road shop has praised its range of volunteers for their hard work during the pandemic and every day since.
The team there is always encouraging more people to sign up as a volunteer to enable them to try something new, while also having a way to help and support our charity.
Jo Priddey, shop manager, said the shop's entire foundation is its volunteers and the hours they dedicate to sorting through stock, cleaning the shop and helping to raise vital funds to support hospice care.
Jo started with Birmingham St Mary's Hospice initially as a volunteer herself, and has then progressed to becoming a shop manager, as she loved the environment so much.
She explained: "I have been with the charity since 2014 when I started off as a volunteer, then worked my way up.
"I know what I am working for and it just makes it really rewarding. This is the only job I've ever had because I love it so much."
She added: "I originally started off as a volunteer but decided I'd really love to do it as a job.
"So I became an assistant shop manager and then a manager two years ago. It is a lot of responsibility to run a shop and manage volunteers and staff but very worthwhile."
VARIETY
Jo said at Birmingham St Mary's Hospice's Heeley Road shop, they have a good variety of volunteers, both young and old.
This helps to bring in different skills and knowledge levels to the shop, Jo said, with the chance for everyone to do something different.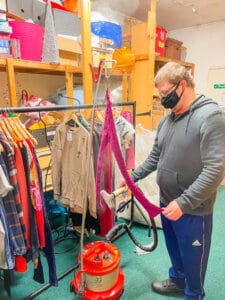 "The great thing about having volunteers is you interact with different people all the time," Jo said.
"You may get 16 year-olds coming in to help, or 70 year-olds, there is such variety. Not many jobs are like that."
The team at our Heeley Road shop are always keen to hear from people wanting to spend a few hours a week, or more, volunteering.
Jo added: "We love to get enquiries from people about volunteering – just come and knock on the door and say hello. Some people stay for a few weeks, others for years.
"The shop's foundation is its volunteers. You can't do it without them.
"We try and recruit and keep on the best of the best to help us support the charity.
"I think it also helps that The Hospice Charity Partnership is a local charity so people appreciate knowing where the money is going, compared to having a national charity shop on the High Street."
Visit www.birminghamhospice.org.uk/volunteers/ to find out more about volunteering in our shops.
Thanks for chatting with us Jo! And a huge thanks to all of our Retail Team and volunteers for their ongoing dedication to our Hospice Charity Partnership shops and to the Heeley Road shop.