Ian, a patient at our Day Hospice, secured a special video message for hospice nurses when he met his all-time favourite band, UB40 – what he described as a "surreal" experience.
Ian Smith, 50, has been attending our Day Hospice service at Selly Park since November 2022. He said he absolutely loves his weekly visit, which is why he knew he wanted to get a special message for the team he's come to know so well when he was able to meet the Birmingham-born reggae band.
As one of UB40's biggest fans, Ian has been to many of their concerts and is even part of a Facebook fan group – which is how this once-in-a-lifetime experience to go backstage and meet the band, came about.
Watch Robin Campbell's video message
Band member Robin Campbell's wife, Luci, reached out to Ian after he'd shared his love of the reggae band and more about his story on the Facebook group. She invited Ian and two of his friends to the band's show in Birmingham in December.
Ian said: "It was the best day of my life. It's something that was honestly on my bucket list. It was so lovely to meet them all – it was surreal.
"We even went to the after-party, I was treated like a VIP."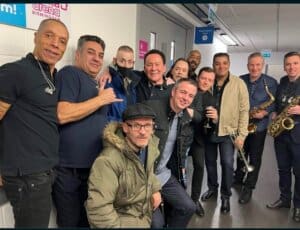 Ian has been supported by the hospice since his terminal diagnosis of liver disease last year and wanted to secure a surprise for the hospice staff while at the concert.
He explained: "When I was there, Robin was kind enough to record a video message for the nurses here at the hospice. It means the world to me because my favourite part of my week is visiting the hospice.
"The hospice has really helped me come to terms with what is happening. I started attending the Day Hospice in November 2022. I love coming here so much and this place deserves everything it can get because it's honestly an escape for me.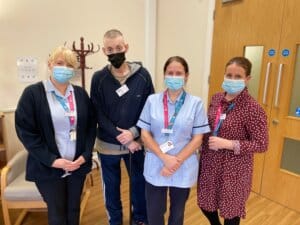 "I was given a terminal diagnosis in June of liver disease. But when I come to the hospice, I can talk about it with others here, with no judgement. I feel like I can talk to the teams about anything."
Ian has even done some fundraising for our charity during his short time with us so far. He managed to raise more than £1,000 by setting up a JustGiving page and sharing his story. This money raised goes a long way in helping us care for and support more people living with a terminal diagnosis.
Thank you for sharing your story, Ian!