A longstanding supporter of Birmingham Hospice has been awarded a British Empire Medal in recognition of his services to music and charity after using his vast musical knowledge to raise vital funds for us.
John Smith, from Northfield, has raised almost £50,000 by giving talks with a musical theme to groups and associations in the area. He varies his talks with focuses on different topics, genres or geographical areas, and now has 32 different programmes to offer.
The idea came about as the result of a family connection – his daughter Karen managed our Living Well Centre at Selly Park around 25 years ago, and she invited her mother Jean to bring her Adult Education Choir to entertain the patients. Shortly afterwards, Jean took over as Musical Director of the hospice choir, which is still running today, and undertook various other volunteering activities, including working for 20 years in the Living Well Centre, providing reflexology treatments to patients for six of those years.
Meanwhile, John had recently retired from his role at Cadbury's and, when he was asked to give a talk based around his music collection, its success led to several more and he decided to use those to help the hospice by asking for donations in return for his appearances.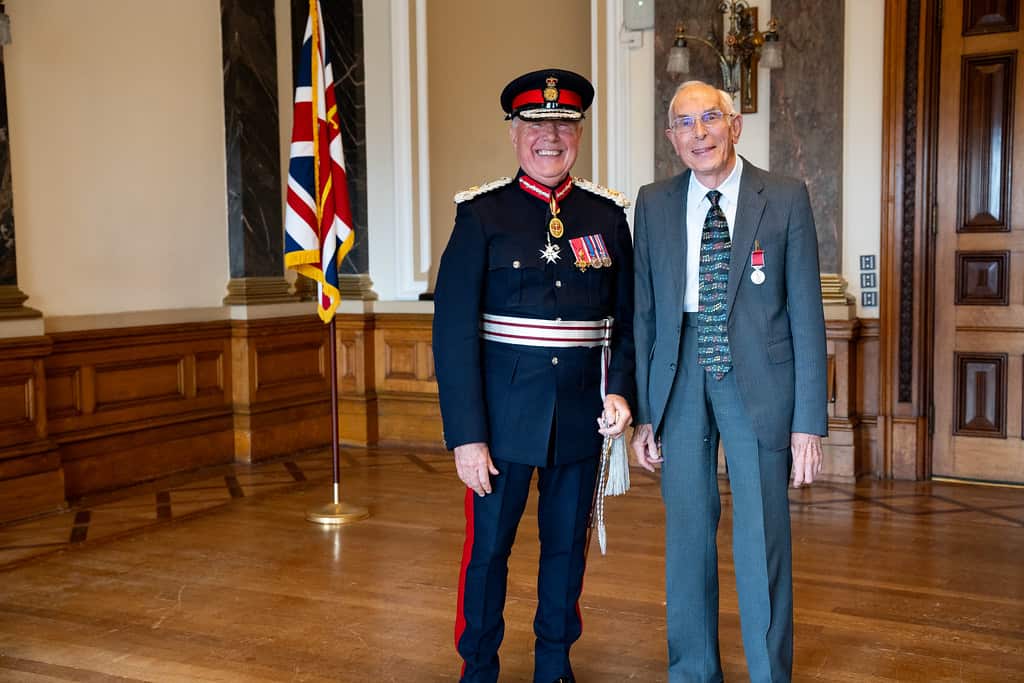 He said: "I love music, and have a very large collection of recordings which I spend most of the day listening to. A group in Cotteridge asked if I could come and present a 'Desert Island Discs' evening for them, and they enjoyed it to the extent that they invited me back again. I created the 'Birmingham – A City in Music' programme which has been extremely popular over the years, and it's grown from there.
"I determined from the start that I wouldn't charge a fee or expenses, so everything I get goes straight to the hospice."
Jean put together the application for the medal without John's knowledge, with support from colleagues of both Birmingham Hospice, including past CEO Tina Swani, and Royal Birmingham Conservatoire. The award also recognised his voluntary service as secretary and then chairman of the Friends of Birmingham Schools' Orchestras, and secretary of the Birmingham Conservatoire Association.
John was presented with the medal by the Lord Lieutenant of the West Midlands, Sir John Crabtree, in a recent ceremony at Birmingham Council House, where he was joined by Jean and two of their three children, Trudi and Andrew.
Jean said: "A close friend of our son's worked for Sense, so he had a lot to do with government departments and it was him who first said that John ought to get an award for everything he's done.
"I spent around two years collecting the information and I'd just got the application in when everything closed down with COVID-19. Fortunately, post-pandemic, the Cabinet Office got back in touch to say they still had the information, and could we pick this up again, and people were very understanding in helping me to get everything together."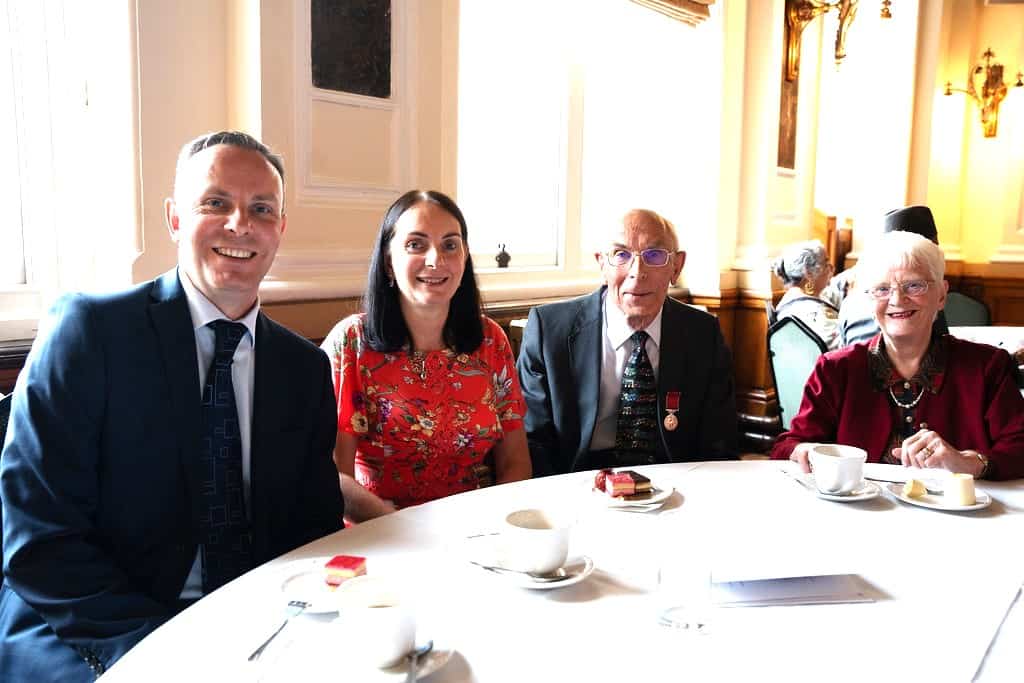 John added: "We'd been on holiday and came back to find the letter from the Cabinet Office – I was very shocked and surprised at first, but of course very pleased and honoured as well.
"The ceremony was a formal occasion but friendly as well, with light refreshments afterwards and general mingling, which was very pleasant, and a chance to meet lots of different people to talk about what we'd all done."
John has now given an astonishing 1,542 talks, raising over £47,929. His yearly tally peaked at 133 in 2007, including one occasion that year where he gave three different talks in three locations on the same day!
He added: "I find that whenever I give a talk, people are always understanding of the wonderful service the hospice provides, appreciate the sterling work that's done there, and generally then follow that up by putting something in the collection box!
"Although an octogenarian I would love to raise £50,000 – it has become more difficult as sadly the number of groups I go to has dropped quite significantly after COVID-19, but I'm very close now, so that's the aim."
Pictured top right – John receiving his medal from the Lord Lieutenant of the West Midlands, Sir John Crabtree.
Pictured above left – John at the medal ceremony with his wife Jean, and children Trudi and Andrew.