#CareatChristmas2022
Christmas is about being together. And for Ravi Chohan's family, having him at home over the festive period was the thing they wished for the most.
With the support of Hospice at Home and Community Nursing Teams, Ravi was able to spend Christmas with his family and friends around him.
In 2018, Ravi was diagnosed with cancer in his nasal cavity, throat and lungs. He had treatments of chemotherapy and radiotherapy which were able to successfully target the cancer in his nasal cavity and throat.
In September that year, Ravi was told he had 6-12 months to live. Due to the side effects of his treatment, he was referred to Birmingham St Mary's Hospice for pain management and support at home.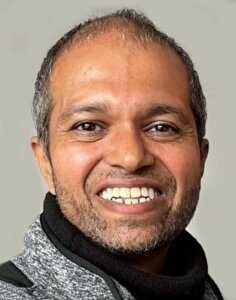 His wife of 26 years, Meena, said: "The care and support was all about helping him to be as independent as possible. Ravi was so full of life and even though he was going through these treatments, he still wanted to live and fight.
"The hospice allowed that through the pain management. The hospice made pain medication acceptable to Ravi, by focusing on how it improved the quality of his life.
"Up until October 2021 Ravi was very independent, even going on 2-5km walks with a heavy rucksack on his back. He even travelled to Turkey in October 2021 for a meditation retreat all by himself. He organised the trip himself and went and came back with tons of positivity and fighting spirit."
She added: "At first, when you are referred to palliative care specialists, you can think this is the 'end of the line'. But it is actually the opposite – you are giving people quality of life and with it comes the hope to keep going and fighting."
In November 2021, Ravi caught sepsis and was hospitalised for three weeks. During this time, visitors still weren't allowed in hospitals due to COVID-19 restrictions and Meena struggled without seeing her husband.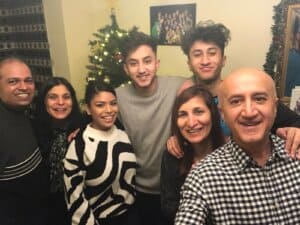 "He was in so much pain and it was a really hard time for us," she said. "He is somebody who is never negative and never complained, but he really struggled during this time.
"That's when there were glimpses of him nearly giving up. It was so horrible to not be there to hold his hand that I decided then I wanted to have Ravi at home."
Meena contacted the hospice to see how their home could be adapted for Ravi during this time, and said that nothing was ever too big or small a request for the nursing teams.
She explained: "I really wanted Ravi to stay at home but I didn't know if that would be possible because we live in an apartment.
"Before we were able to get a hospital bed in the flat, Ravi was upstairs in bed and it would be hard for us to know when he was awake.
"Those minutes he could be awake are so precious when you only have days and weeks left.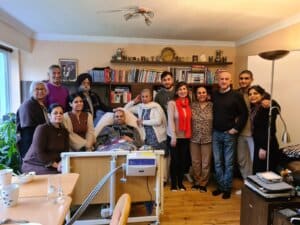 "We ended up requesting a hospital bed which was put in the lounge and it meant we could be together as a family. It also took away the guilt I felt when I left him as I knew there is someone with him at all times. Neighbours and friends popped in whenever Ravi was awake, as all enjoyed his company.
"When I asked about the hospital bed, it was sorted the very next day. We also had an air mattress which helped with bed sores and a wheelchair to help Ravi get around. Everything was readily available for us. It gave him independence."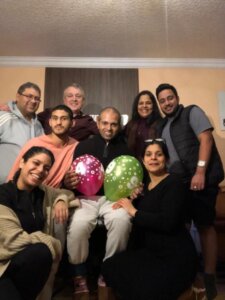 For Meena, being able to have Ravi at home over Christmas was so important. His two children even managed to take him out to the cinema on his birthday on December 28th. It was a surprise for him and his first day out after November. On his return from the cinema, his best friend was waiting at home for a further surprise celebration together with his family.
She said: "During Christmas, Ravi was on a morphine syringe bag as he had just come out of hospital after having had sepsis. This was a lot to manage but the nurses from the hospice helped adjust Ravi to being at home and helped him find alternative painkillers where he could still be mobile.
"Over Christmas he managed to just have oral pain relief which meant we didn't have to have the nurses in every day and he could spend the time with us. The team were brilliant at working together to give him as much independence as they could for as long as they could.
"We were able to have family around over the festive season and be together, which was so lovely."
Ravi died peacefully with all his family and friends around him on January 30th 2022, and Meena has continued to have support from the hospice through bereavement counselling. The charity is now helping to organise a fundraising event for what would have been Ravi's 50th birthday in December.
The family even set up a Much Loved tribute page in Ravi's name, and thanks to their generous family and friends, they were able to raise more than £4,000 for The Hospice Charity Partnership in Ravi's memory.
We can't thank them enough for this incredible generosity, and thank you Meena for sharing your story with us.